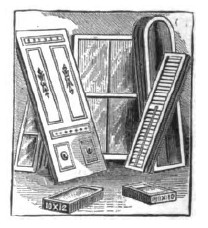 Happy Friday! As the weather gets warmer you might have some outdoor preservation projects on your to do list. You may want to consult a few online sources for information before diving in to your next project. Here's a handy reminder of some of the sources of information you can access for free online!
From the National Park Service:
Preservation Briefs (common preservation issues and how to resolve them, often used as a supplement for tax credit projects)
Preservation Tech Notes (case studies of preservation techniques)
Preservation by Topic (alphabetical list by preservation topic, useful if you have an issue but you are not sure where to look for an answer)
From the Virginia Department of Historic Resources:
Historic Trades Directory
Publications (a mix of both hard copy only and PDF publications on various preservation and archeology topics, including New Dominion Style Guide for help identifying architecture styles of the recent past, and How to Research Your Historic Virginia Property)
Technical Reports (a Virginia-level companion to the NPS Preservation Briefs and Tech Notes)
The Historic Preservation Education Foundation has provided digital versions of some hard to find print publications generated from conference proceedings, including:
Roofing
Windows
Interiors
Preserving the Recent Past
If you are looking for some period materials in catalogs in your research into house parts and appliances, check out:
Building Technology Heritage Library
Winterthur Museum Library
If you are looking for in-person training opportunities, check out:
Traditional Trades Youth Initiative pilot program, looking to provide youth (age range 18-30) with exposure and experience in the fields of Historic Preservation, Cultural Resources and Facility Maintenance
Historic Real Estate Finance Training Program May 8-12 in Fairmont, WV, an intense, interactive workshop in the real estate development process including underwriting, appraisals, cash flow, depreciation, passive income/loss, syndication, tax credits and more
And if you are in need of some actual architectural salvage pieces for a project, the PHW office has a selection of window sashes with historic glass (two, six, and nine light sashes) ready to go back out into the world. Drop us a line at 540-667-3577 or phwinc.org@gmail.com for more information.