The Bough and Dough Shop
Dates: Nov. 15 - Dec. 5; exact days vary by week so please refer to the event calendar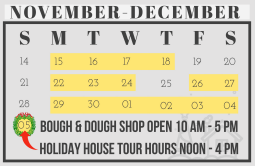 Hours of Operation: 10 AM - 5 PM
Location: The Hexagon House, 530 Amherst Street, Winchester
Admission: Free
Other Information: Please wear a face covering while shopping indoors. This year the shop will be limited to the back porch and one interior room. Hot drinks will be available on Sunday, Dec. 5 during the Holiday House Tour, while supplies last.
Items for sale: Local artisan crafts, baked goods, and fresh greenery are available for holiday gift-giving and decorating. Books and artwork featuring historic subjects may be available on a year to year basis. Learn more about the Shop and its wares or follow our Bough and Dough Shop Instagram.
Online Shopping
Shop online this year!

Free Curbside Pickup: Enter "Curbside" at checkout for pickup at the Hexagon House during Shop hours
The Holiday House Tour

Date: December 5, 2021
Hours of Operation: Noon-4 PM
Locations: 25 West Piccadilly Street
321 South Stewart Street
814 South Washington Street
Admission: $20 in advance; $25 at the door
Please note single-site admission tickets will not be offered in 2021.
Tickets: Available November 15 at Kimberly's, Winchester Book Gallery, Winchester-Frederick County Visitors Center, the Bough & Dough Shop, and online.

Volunteer!
The Holiday House Tour requires a tremendous amount of effort and energy from volunteers. If you are interested in helping with the tour in 2021, please contact the office with your information and available times to volunteer.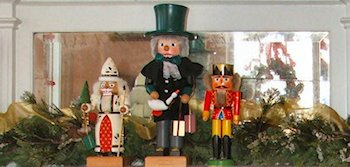 Still have questions about the Holiday House Tour?
READ THE FAQ