The Holiday House Tour
The Preview Party makes its return to our Holiday House Tour festivities in 2019. The Preview Party is a "sneak peek" at the houses the Saturday evening before the main event. Enjoy a more relaxed atmosphere in the homes and heavy hors d'oeuvres at the Preview Party house, which will only be open Saturday evening. This year the Party will be limited to 100 guests maximum.

Date: December 7, 2019
Hours: 6-9 PM (Saturday)
The Preview Party: 214 West Cork Street, The Obed Waite House (c. 1795)
Houses:
226 Amherst Street, The Daniel Morgan House (c. 1786)
421 West Clifford Street (c. 1895)
512 Courtfield Avenue (c. 1932)
163 Academy Lane (c. 2006)
Admission: PHW Members $50; nonmembers $80 (includes an individual one year PHW membership)
The Daylight Tour is the main attraction of the Holiday House Tour weekend, drawing crowds of up to 500 visitors. This year, we partnered with the Winchester-Frederick County Historical Society to present the Holiday House Tour Through the Centuries, visiting homes constructed in each epoch of Winchester's architectural history from its founding in 1744 until the modern day, to commemorate Winchester's 275th birthday. See more 275th events here!

Date: December 8, 2019
Hours: Noon-4 PM (Sunday)
Houses:
226 Amherst Street, The Daniel Morgan House (c. 1786)
421 West Clifford Street (c. 1895)
512 Courtfield Avenue (c. 1932)
163 Academy Lane (c. 2006)
Admission: $25 in advance, $30 at the door

Where to Buy Tickets
Buy Sunday Daylight Tickets online now!

Holiday House Tour Tickets are on sale now at The Final Yard, Kimberly's, Winchester Book Gallery, Winchester-Frederick County Visitors Center, and the Bough & Dough Shop at the Hexagon House. Preview Party tickets may only be reserved at the PHW Office or the Bough and Dough Shop.
The Bough and Dough Shop
Dates: November 22 - December 15 2019
Hours of Operation:
Tue.-Sat., 10 AM - 5 PM
Sun. (December 1, 8, and 15 only) Noon - 5 PM
Extended Evening Hours (open until 6 PM):
Grand Opening weekend, November 22 & 23
Holiday House Tour weekend, December 6-8
Closed for Thanksgiving

Location: The Hexagon House, 530 Amherst Street, Winchester
Admission: FREE
Items for sale: Local artisan crafts, baked goods, and fresh greenery are available for holiday gift-giving and decorating. Books and artwork featuring historic subjects may be available on a year to year basis. Tickets for the Holiday House Tour and memberships to PHW are also available. The Shop offers complimentary hot drinks to its visitors. Learn more about the Shop and its wares.
BOUGH & DOUGH SHOP ARTISAN APPLICATION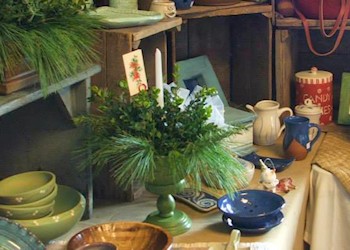 A sampling of pottery and greenery arrangements for sale at the Bough and Dough Shop
Volunteer!
The Holiday House Tour requires a tremendous amount of effort and energy from volunteers. To make the event successful, PHW is always looking for people to lead tours as docents, provide musical entertainment, or help decorate the homes.
Donations of fresh greenery are also welcome. The Shop is always in need of magnolia, berried holly, nandina berries, boxwood, pine, and other greenery. If you would like to donate greenery, PHW volunteers can trim your trees and bushes for you. Please contact PHW for more information or let us know how you can help.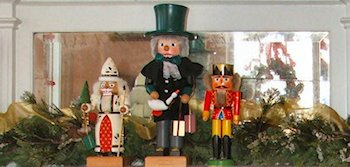 Still have questions about the Holiday House Tour?
READ THE FAQ