Preview Party & Candlelight Tour
The Preview Party is a special evening reception in a historic home, featuring a sneak peek Candlelight Tour of the other sites on the Holiday House Tour on Saturday evening. Admission tickets to the Preview Party and Candlelight Tours are also valid for the Sunday afternoon house tours.
Date: December 1, 2018
Hours: Saturday, 6-9 p.m.
Party Location: TBA
Candlelight House Tour Locations: TBA
Admission: TBA

The Daylight Tour
The Daylight Tour is the main attraction of the Holiday House Tour weekend, taking place on Sunday afternoon and drawing crowds of up to 500 visitors.
Date: December 2, 2018
Hours: Sunday, 1-5 p.m.
Locations: TBA
Admission: TBA

Where to Buy Tickets
Holiday House Tour Tickets go on sale in mid-November at The Final Yard, Kimberly's, Wilkins' Shoe Center, Winchester Book Gallery, Winchester-Frederick County Visitors Center, www.phwi.org, and the Bough & Dough Shop (December 1 and 2 only).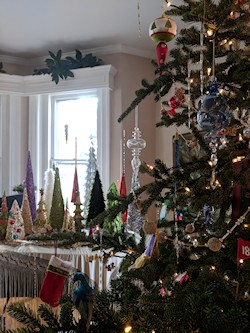 We'll see you on December 1 & 2, 2018, for our 42nd Holiday House Tour!
The Bough and Dough Shop
The Shop is open the first weekend of December, concurrent with the Holiday House Tour.
Dates: December 1 and 2, 2018
Hours of Operation:
Saturday 9 a.m. - 5 p.m.
Sunday 11 a.m. - 5 p.m.
Location: TBA
Admission: FREE
Items for sale: Fresh cut greenery, wreaths, baked goods, and local artisan crafts are available for holiday gift-giving and decorating. Books and artwork featuring historic subjects may be available on a year to year basis. Tickets for the Holiday House Tour and memberships to PHW are also available. The Shop offers complimentary hot cider and coffee to its visitors. See examples of artisan goods and bios.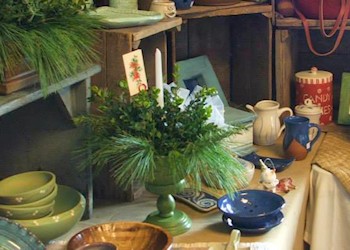 A sampling of pottery and greenery arrangements for sale at the Bough and Dough Shop
Volunteer!
The Holiday House Tour requires a tremendous amount of effort and energy from volunteers. To make the event successful, PHW is always looking for people to lead tours as docents, provide musical entertainment, or help decorate the homes.
Donations of fresh greenery are also welcome. The Shop is always in need of magnolia, berried holly, nandina berries, boxwood, pine, and other greenery. If you would like to donate greenery, PHW volunteers can trim your trees and bushes for you. Please contact PHW for more information or let us know how you can help.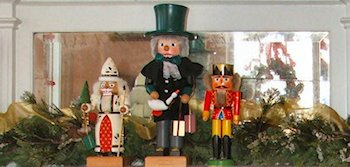 Still have questions about the Holiday House Tour?
READ THE FAQ