This week, we uncovered a stash of 30 more Holiday House Tour photographs while cleaning old files. The exact year of the tour depicted was unknown until some careful background detail sleuthing revealed the home was on Seldon Drive. With that knowledge and the database in progress cataloging our past tours, we were able to determine the images came from the 1990 tour "A Neighborhood Christmas," the only year (so far!) Seldon Drive was featured. Enjoy this look back at the past in our Flickr album!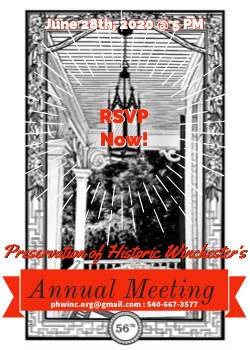 As a friendly reminder, PHW's 56th Annual Meeting is coming up on June 28th at 5 PM. The Annual Business Meeting will consist of the Proposed Bylaws Amendment, President's Annual Report, and Election of the 2020-2021 Board of Directors. A full copy of the bylaws is available on PHW's website.
Only PHW members with current dues who attend the meeting in person may vote on the actionable items. If you plan to attend the meeting, RSVP your name and number of attendees to 540-667-3577, phwinc.org@gmail.com, or on the Facebook event page. The meeting is capped at 50 guests.
The meeting will be held outside and no refreshments will be offered. Social distancing due to COVID-19 will be in effect. Wear face coverings and do not attend if you have been exposed or feel ill. Please bring your own seating. A livestream of the meeting will be hosted on Facebook. The meeting will not be rescheduled for inclement weather.
Last, we have a few curated reading links for you to enjoy this weekend along the theme of Juneteenth celebrations:
Early Photographs of Juneteenth Celebrations from the Public Domain Review
Stand for LOVE: 18 Museums and Historic Sites to Learn about Virginia's Black History from Virginia's Travel Blog
Take Free Courses on African-American History from Yale and Stanford: From Emancipation, to the Civil Rights Movement, and Beyond from Open Culture