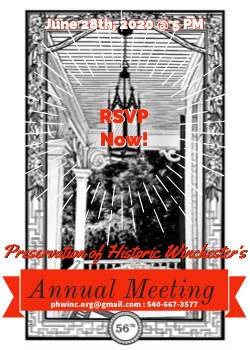 PHW's 56th Annual Meeting will be held on June 28th. The meeting will be held at the Hexagon House, 530 Amherst Street, beginning at 5:00 P.M. The Annual Business Meeting will consist of the Proposed Bylaws Amendment, President's Annual Report, and Election of the 2020-2021 Board of Directors.
A full copy of the bylaws is available on PHW's website.
Only PHW members with current dues who attend the meeting in person may vote on the actionable items. If you plan to attend the meeting, RSVP your name and number of attendees to 540-667-3577, phwinc.org@gmail.com, or on the Facebook event page. The meeting is capped at 50 guests.
The meeting will be held outside and no refreshments will be offered. Social distancing due to COVID-19 will be in effect. Wear face coverings and do not attend if you have been exposed or feel ill. Please bring your own seating. A livestream of the meeting will be hosted on Facebook. The link will be made available approximately one week before the event. The meeting will not be rescheduled for inclement weather.
For further reading and researching this week, we have a selection of links:
It seems many people are taking the pandemic time to research their homes and towns. Atlas Obscura has been providing a steady stream of informative articles on how to get started, including How to Dig into the History of Your City, Town, or Neighborhood.
If you are looking for early Winchester Sanborn Fire Insurance Maps to help with your research, you can find them at the Library of Congress. You can also look at other maps PHW and other local researchers use to date local buildings at Historic Map Works.
Do you like transcribing old documents or going on deep history searches? East End and Evergreen Cemeteries in Richmond are accepting remote volunteers to help make their documents more accessible and preserve Richmond's African American history. Follow the links to register for Biography Writer, Cemetery Research, or Record Transcription.
If you are interested in similar efforts to document, preserve, and tell forgotten stories, you may also enjoy Architectural History Fieldwork Project Seeks to Find 'Suppressed and Erased Histories' and When Architecture and Racial Justice Intersect.
AmazonSmile customers can now support Preservation of Historic Winchester, Inc. in the Amazon shopping app on iOS and Android mobile phones! Simply follow these instructions to turn on AmazonSmile and start generating donations.
Open the Amazon Shopping app on your device
Go into the main menu of the Amazon Shopping app and tap into 'Settings'
Tap 'AmazonSmile' and follow the on-screen instructions to complete the process
If you do not have the latest version of the Amazon Shopping app, update your app. Click here for instructions.