The Shop is in full swing at the Hexagon House now through December 15. Here's a peek at what we have in stock from some favorite repeat vendors!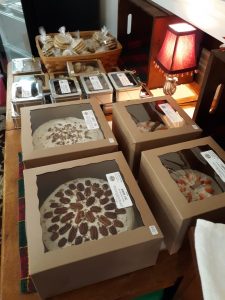 Emily Warren returns with lovely cakes, cookies, toffee and other treats from the Homestead Farm at Fruit Hill Orchard. You never know what she might bring during a restock, but it all tastes delicious! You can follow Emily on Facebook or Instagram.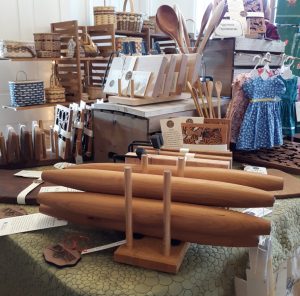 Ron Light of Lighthouse Woodworking returns with cutting board, cheese slicers, trivets, and ornaments this year. In addition,check out his new offerings of spoons, clocks, and comfortmeters. There are also two plant stands and one lovely tiger maple table available for purchase.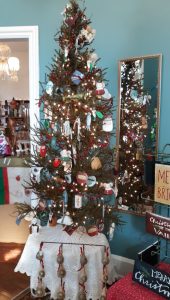 Jackie Tobin returns again this year with her small painted ornaments and signs. Her jam, located in the kitchen, is depleted but there is still red and green pepper jelly, peach, and black raspberry to choose from. Also on Jackie's tree in the foyer are a number of sea glass angel ornaments by newcomer Destiney Newlin.
Thanks to our sponsor in 2019 Sidney Enterprises. Look for their ad in the Holiday House Tour booklets, their display in the Bough and Dough Shop, and be sure to check out their services!