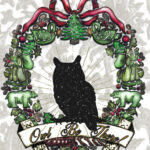 We finished the last day of sales at the Bough & Dough Shop on Sunday, December 11, and after we helped pack up all the unsold art and craft items to head back to their makers, we got down to the boring but very necessary part of the event – tallying sales.
From the ticket sale numbers, we had about 260 paid tour goers. From those who reported back to the Shop at the end of the tours, the variety in the houses, decorating styles, and architecture made this one of the best tours ever. If you missed the event, it sounds like it was a once a decade confluence of houses and decor. We have ideas for next year to keep up this new standard, so keep your eyes peeled as we move into the fall of 2023 for exact dates and locations for our 47th house tour.
While the Shop sales are not 100% double checked as of writing time, we are confident the overall sales numbers were up from last year, and most artists did well. We informally talked to a few during pickup about potential issues or things to consider for next year, but overall we had no issues with the Shop and are very pleased with the early numbers. Unless something unexpected happens over the spring to summer, we will most likely be opening in 2023 around the same time schedule. Many of the shopper comments this year remarked on how well the Shop was set up and that the quality of items was better this year than ever before. We are so pleased with the compliments and we hope we can do just as well next year.
If you're an artist or know of someone who might be a good fit to join the Shop in 2023, keep an eye out here and on our Instagram for details about applying. We will also probably host an August open house event again for potential artists to visit the space in person beforehand and ask questions before applying. The number of artists we had this year seemed to be the sweet spot for variety without over-stuffing the floor, so we will most likely limit our vendors to no more than 25 again next year.