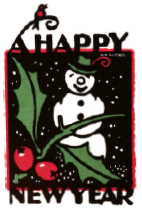 For our last PHW blog post of 2016, let's find out how to send off this year!
The National Trust for Historic Preservation has put together a list of 11 Preservation Wins and Losses in 2016. Locally, you can refresh your memory for the 2016 PHW Preservation Award Winners, reflect on the loss of the Winchester Towers, and recognize the ongoing efforts to save the Clowser House in Frederick County and bring life back to three historic structures after the fire on the south end of the Loudoun Street Mall last February.
To see the year out in a safe and family-friendly atmosphere, head to downtown Winchester on December 31 for the 30th Annual First Night Winchester celebration. Events take place from 10 AM to midnight, culminating in the apple drop and the fireworks display to ring in the new year. Buttons are $10 each, with free admission for children 10 and under. Find the full list of activities, locations, performers, and where and how to purchase your buttons at the First Night Winchester site.
If you are planning the celebrate at home, the Encyclopaedia of Superstitions we looked at for Christmas has a few suggestions to help bring in the good luck for the New Year. A plum tree branch should be placed over the front door to encourage fruitfulness and beauty. If you'd like to try a little fortune-telling, "lay a green ivy leaf in a dish on New Year's night, cover it with water and set it in a safe place until the fifth day of the year. If the leaf is then still green and fair you will be safe from any sickness all the year; but if you find black spots on it, you may expect sickness." For more interactive and enjoyable party entertainment than watching a leaf for five days, The Book of Games and Parties for All Occasions offers the game "Old Year's Follies and New Year's Resolutions," which derives from the game Consequences (think of an early type of Mad Libs):
"The hostess provides a number of sheets of paper as confession blanks, one for each guest. At the head of one set of blanks she writes, 'I [name of guest] hereby confess that in the year that is past I committed these among many follies:' Upon the second set of blanks she writes, 'I [name of guest] bitterly repenting my follies of the year that is past do hereby firmly resolve:' Each paper is folded so that no name is visible and passed around in turn for each guest to write a folly and a resolution. Allow two minutes to each guest for writing follies and two for resolutions after which the papers are opened and read. The highly amusing follies and resolutions ascribed to the different guests will create the greatest merriment."
While you are partying, whoever has the last glass of wine or other spirits from the bottle has had the "lucky glass" and will be successful throughout the next year. It is of course a tradition to sing a rendition of Auld Lang Syne just before midnight. To finish off your New Year's Eve party, try opening your windows and doors at midnight to let the bad luck out and the good luck in, and make lots of loud noises to scare out those pesky evil spirits. Your neighbors will undoubtedly be thrilled with your shenanigans.
Stay safe, celebrate responsibly, and we will see you in 2017!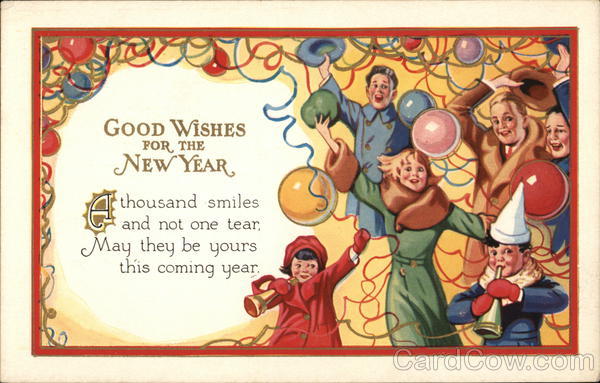 Vintage postcard from CardCow.com.