We had a fantastic time at the open house last Saturday. If you couldn't make it, you missed a chill afternoon full of art, food, and creativity. Don't worry, though! You will get to enjoy the fruits of these labors (plus our upstairs neighbors ShenArts) starting in late November at the Bough and Dough Shop. If you haven't yet, you can pick up an informational packet with an application form here.
Do you enjoy transcription of historic documents? The Library of Virginia has made the records of the Equal Suffrage League available for transcription. As part of the 2020 commemoration of the ratification of the Nineteenth Amendment guaranteeing women's right to vote, the Library is asking volunteers to help transcribe these records that document women's campaign for the vote in Virginia. You can learn more at their blog, Out of the Box.
September in Winchester always conjures up Patsy Cline. Get your fix tomorrow with the Patsy Cline Block Party. The annual event will be held from 10 a.m. to 4 p.m. August 31, 2019 in front of the Patsy Cline Historic House, 608 S. Kent St., Winchester. It is an old-fashioned style block party with live entertainment, food concessions by Shaffer's BBQ and souvenirs staged on Kent St. between Monmouth and Germain streets. The block party is free to attend with tours of the historic house offered at the reduced price of $5 for the day. Four performances by returning and new entertainers includes tribute singers performing Patsy songs, singer-storyteller, and groups performing songs of her genre.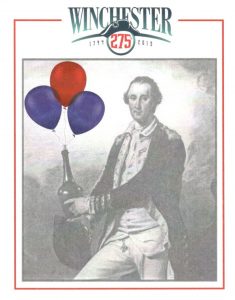 "From Disaster to Redemption: George Washington and the Making of Winchester" will be held Sunday, September 15 at the George Washington Hotel, beginning at 1:30 PM. This free presentation will be a lovely celebration in a lovely place, with a dynamic speaker, Dr. Carl Ekberg. Join the French and Indian War foundation and the Winchester-Frederick County Historical Society for this 275th anniversary of the founding of Winchester event. Everyone is welcome! More information is available on the French and Indian War Foundation's website.
Last, PHW will be closed on Monday, September 2 for Labor Day. Enjoy your long weekend as you say goodbye to summer!