Although it feels like summer is already winding down, we have links and activities to share with you this week that can extend the season a bit longer.
The next time you enjoy some ice cream, you can compare the experience to the ice cream parlors of the late Victorian era. Not only were they a place to enjoy cool treats in the summer, they filled an important void for solitary women who needed some lunch. As Jessica Gingrich writes, "The growing demand for ladies' lunch spots inspired the creation of an entirely new restaurant: the ice-cream saloon. At a time when respectable women were excluded from much of public life, these decadent eateries allowed women to dine alone without putting their bodies or reputations at risk." Read the full article and enjoy some historic images on Atlas Obscura.
You might also have some fond memories of spending all day at a playground. The Preservation in Pink blog has hit the right level of childhood nostalgia recently by photographing a number of classic playground equipment sets. Check out The Imagine City and see if it stirs some memories in you, too.
I have had a hard time finding preservation-related podcasts that will keep me interested for more than a single topic or two, but a few weeks ago I came across the Defunctland YouTube channel and promptly binged on all their offerings. Episodes typically cover the rise and fall of theme parks or individual attractions across the country, big and small. Some of you may remember the topic covered in Defunctland: The War for Disney's America specifically, but you also can't miss the story of Action Park, whether you have heard of this place or not.
Get ready to mark your calendars! We have two notices of upcoming events to share with you.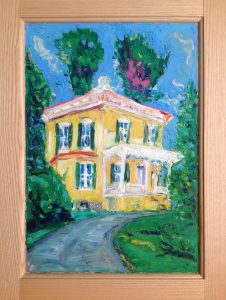 We would like to invite you to step around the corner during August's First Friday event downtown for a new gallery opening. The Alley Gallery is an intimate working studio-gallery at #15 Indian Alley. The artist, David Sipp, recently moved to Winchester from Northern New Mexico where he regularly showed his work in the High Road Art Tour and area galleries. "I am absolutely excited to be able to explore the incredible natural and architectural beauty that is Winchester…I have finished three pieces in the four months I have been here with the most recent being the Hexagon House." The Alley Gallery will be celebrating its unveiling on First Friday, August 3, 5:00-8:00 pm with the support of MerchantDice, an Arts and Entertainment company. We are looking forward to sharing stories and seeing his other works of our local buildings. Please stop by and welcome him to Winchester!
From our friends at the French and Indian War Foundation is a special invitation to a September event:
On September 30, the French and Indian War Foundation will sponsor a fundraising event at Fry's Fort in Shenandoah County, VA. Fry's Fort, rarely open to the public, is arguably the most important and best preserved F&I War site in the Shenandoah Valley. It is also the finest example of the German vernacular architectural style known as the flurküchenhaus in the Valley. Don't know what a flurküchenhaus is? Come join us and find out.

When: Sunday, September 30, 2:00 to 5:00 p.m.
Where: Fry's Fort—direction will be provided later
Cost: $50.00 per person (No refunds)

RSVP required—No payments at the door — Attendance will be limited. First to RSVP will have best opportunity to attend the event.
A catered event, with heavy hors d'oeuvres

Tours of house and arboretum — house and grounds are not ADA compliant

Short talks on Fry's Fort during the F&I War and on Mercer's Company and the Fort

Formal invitations will be sent soon with more details. If you have questions or wish to RSVP early to attend this event feel free to contact us via e-mail or telephone:
Telephone: 540-678-1743
E-mail: fiwf.dsg@comcast.net
Website: FIWF.org