Unfortunately the Thursday BAR meeting was unable to be held as a quorum was not available. The meeting had the potential to reconsider the reconsideration of the fence and pillar issue at 119 S. Washington St. It is possible a special BAR meeting will be called next Thursday, May 25, to consider the items on yesterday's agenda.
We would also like to thank everyone who signed the petition to appeal the decision on the fence/pillars. It was an unfortunate turn of events that the deadline to file was not what was expected based on the date of the "final" consideration of the items, but the required signatures were reached and the petition has been filed. While PHW did not spearhead the appeal, we assisted in connecting interested parties to the document and acting as a public space to collect signatures.
Given that much of this application is in limbo, we are not sure what the future will hold. PHW felt it was important to participate in this petition because it was clear several rules of order were overlooked or applied incorrectly in the reconsideration of the fence/pillars. Many of the procedural errors this appeal rests upon would not have been spotted without the sharp-eyed neighbors following this process.
---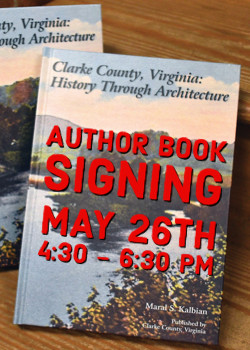 Don't forget to mark your calendars for next Friday, May 26, 4:30-6:30 PM, for a book signing event with Maral Kalbian at the Hexagon House, 530 Amherst St. Stop by to chat and get signed copies of her newest book, "Clarke County, Virginia: History Though Architecture." This event is also open to the public.
Kalbian's book introduces the reader to the first people known to live in the area, guides readers through the development of roads and communities, and explains the architectural styles of its grand estates and humble houses. She addresses all types of buildings and provides an overview of how the surviving architecture reflects Clarkes' history. Kalbian also separated fact from fiction by tracking down widely held beliefs and finding documented evidence to either support or debunk them. Aware of discrepancies in past historical writings, she double- and tripled-checked some stories in order to give future researchers a better place to start. The book is heavily illustrated and footnoted.
If you could not make the open house event earlier in May, the first floor of the Hexagon House will be open for visitors that evening. Light refreshment will be offered.