First: PHW is aware of a number of developments concerning 119 S. Washington St. We would like to reiterate that while we are an advocacy group and we appreciate questions and concerns about changes to property in the Historic District without approval, we are not an enforcement agency. Reports of this nature made to PHW will be passed to the Board of Architectural Review via their staff liaison for investigation.
At this point in the project, it is not entirely clear to the PHW members who have been following these meetings and series of approvals what is or is not approved work, what is/was/will be subject to stop work orders, and what has been approved. We certainly anticipated the painting of the brick was likely to cause backlash, and that has indeed been the case.
Unlike some other work that has been conducted on the property recently, the painting of the brick did go through the Board of Architectural Review. While PHW members do not endorse the painting, the proposal was done with historic images and traces of paint presented as proof that the building had been painted in the past. At the time of that approval, PHW was under the impression this was an actual restoration, attempting to recreate the exterior appearance of the home as presented in a circa 1905 image.
The paint approved for this application is said to be similar to a lime wash. We are not familiar with this particular brand, but it was stated to be a "breathable" paint in keeping with recommended practices for historic masonry buildings. If the building had to be painted, this was the least objectionable path to take.
We expect to see 119 S. Washington St. return to the Board of Architectural Review again on Thursday, May 18, 2023, 4 PM in Rouss City Hall. If you cannot attend the meeting in person but would like to submit comments about this or any other issue pertaining to the BAR, you suggest you direct written comments to the Planning Department in advance of the meeting.
---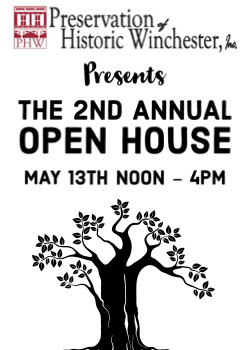 Second: It is a busy weekend downtown and around the Historic District. We hope that if you are out and about for Kidzfest or Fort Loudoun Day on May 13 (this Saturday!), you will also pop by the Hexagon House between noon and 4 PM for our joint open house with ShenArts. If you came last year, we'll have a few new displays set up in the first floor of artifacts pertaining to PHW's history with the Kurtz Building, as well as a half hour video playing on loop during the event. We'll also be able to sell some of our books and other goodies, have a few mystery photos that we hope you'll be able to help us ID, and free coloring sheets for kids of all ages. We are planning to be a chill event, and since we're indoors, we go rain or shine!