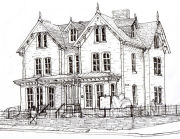 302 West Boscawen Street
House Chairman: Bruce Downing
The professional office of J. Douglas McCarthy & Associates is constructed in the Queen Anne style with Eastlake influences. Below the spired slate roof and ornamented eaves, a porch supported by chamfered posts leads to the double-leaf front door.Through the front door, guests are greeted in the entry hall by a classic gilded female figure atop a tall incised oak newel post. Her upraised arms support a milk glass globe lighting the oak staircase with its turned double balusters and wide gradual steps.
Flanking the entry hall are double oak doors leading to the parlor and the dining room. Both rooms are lit by front rectangular bays with floor- to-ceiling 2/4 sash windows. The parlor is highlighted by a grand walnut over-mantel with beveled mirrors backing bric-a-brac shelves. The dining room fireplace mantel, though less ornamental, is carved with turnings and simplified geometric designs in the English tradition of Charles Locke Eastlake. The carvings of this mantel repeat the design of the front double doors.
This engaging structure is located on the site of the Winchester Medical College. The first College opened in 1827 but was closed shortly after. The second attempt in 1847 proved more successful and the College remained in operation until the beginning of the Civil War. The buildings were put to the torch in 1862 by Union General Nathaniel Banks as retaliation for the dissection of cadavers from John Brown's Raid. Charles L. Crum subsequently purchased the lot to construct his residence, the current building, in 1881.