While we wait for tickets to go on sale later this month, PHW will be releasing information on the tour stops for this year's event on December 3 and 4. We have a fabulous selection of homes, offices, and sacred sites for you to visit this year.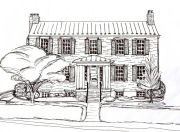 324 West Boscawen Street
The Cabell House
House Chairman: Patrick Farris
This Late Federal-style dwelling was built for Mrs. Elizabeth W. Cabell around 1843. The clean lines of the facade are accented with rosetted corner blocks on the window lintels. Delicate fluted columns in the manner of Minard Lefever surround the front entrance.
The stately symmetry of the Federal Style exterior is seen in the two parlor rooms flanking the entry hall with its main staircase composed of delicately turned balusters and a boxy, geometric patterned newel post.
Large 5-paneled doors with box locks open into each room with classical fireplaces made with Winchester knife-shelf mantels supported by Tuscan columns. In the center of one fireplace is a carved classical urn panel and on the other is an American eagle in profile. The west room has a cast iron decorative stove insert.
This home is featured in Garland R. Quarles' book The Story of One Hundred Old Homes in Winchester, Virginia. If you fall in love with this property on the tour, it is currently for sale, just waiting for a new owner to use the building for office space or convert it back to residential use.