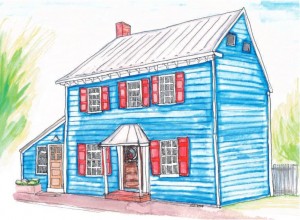 17 East Monmouth Street
The Home of Tommy and Sarah Beavers
Conrad Crebs bought the land that this house sits on from James Marshall on March 4, 1799. This clapboard-sided log house likely was built for one of the eleven Crebs children. Some portion of this house was standing by 1823 when the property, including "lot and improvements," was transferred to John Crebs, a grandson of Conrad Crebs.
It is one of the oldest structures on Monmouth Street, and as such it has seen many alterations over the years to keep up with fashions. The last was a twentieth-century addition of pebbledash siding and a Craftsman-style porch. The current owners removed the stucco and replaced the porch, as well as adding solid paneled wood shutters. This façade improvement earned them an Award of Merit from Preservation of Historic Winchester in 2013.