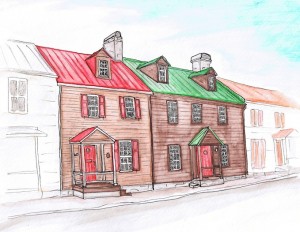 610 & 612 South Loudoun Street
Owned by Dr. John Chesson
These two buildings were originally owned by Conrad Crebs, a Hessian soldier from Hesse Cassel. Crebs came to America as a soldier under British General John Burgoyne during the Revolutionary War. He was later captured and brought to Winchester as a prisoner of war. He remained here after his release, married, and built several houses on Potato Hill.
612 South Loudoun was Conrad Crebs' residence. The two-and-a-half-story Federal-style log dwelling is clad in beaded weatherboard siding, capped by a copper roof with dormers. The interior features four huge limestone fireplaces, while the living room includes an exposed log wall. The narrow, winding stairs to the second story lead to a seven-sided hall. A small study has a trap door and pulley used to haul large items from the living room to the second story.
610 South Loudoun was used as Conrad Crebs' wagon-making shop. There are two large, forge-like limestone fireplaces and intriguing round holes in the interior exposed log wall, presumed to be relics of the shop. Both properties were purchased by the PHW Jennings Revolving Fund in 1979. Renovations will begin soon at 612 South Loudoun.