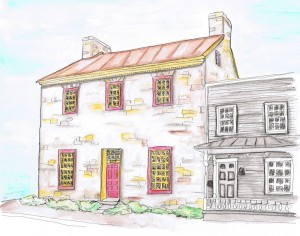 602 South Loudoun Street
The Home of David and Margery Wingenbach
The house at the corner of South Loudoun Street and East Monmouth Street is an impressive example of early Federal-style limestone construction in Winchester. The façade features dressed, coursed stones, while subsequent elevations consist of loosely coursed rubble. The interior framing is hand-hewn post-and-beam construction. The rafters in the attic are marked with saw-cut Roman numerals so they could be assembled from the beams measured and cut at ground level. The original floors are retained on the second story and in the attic. Six of the original seven fireplaces are functional, the seventh having been converted to a furnace flue in the cellar.
The house stands on land granted to Charles Grim by Lord Fairfax in 1759. Charles Grim was a member of Daniel Morgan's Riflemen during the American Revolution. The property passed to his son Jacob Grim, then Jacob Anderson, before being purchased by Conrad Crebs in 1786. Accounts vary as to whether the Grim family or Conrad Crebs built the existing stone house; one theory suggests Crebs enhanced a structure built by the Grims.
By 1908, the Charles Grim House was altered for commercial use, later a tourist home, and subsequently modified into three apartments. Traces of this modification can be seen in the stone patchwork above the entrance and the first floor windows where there had been two doors and a porch.