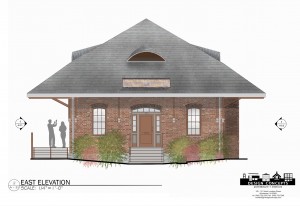 The Bough and Dough Shop
Winchester Little Theatre (Pennsylvania Freight Station)
315 West Boscawen Street
Hours of Operation:
Saturday, Dec. 6, 10 a.m.-5 p.m.
Sunday, Dec. 7, noon-5 p.m.
Musicians:
Celtic Heir Duo, Sunday 1:30-3:30 p.m.
Start your Winchester Holiday House Tour weekend with a visit to the Bough and Dough Shop in the Winchester Little Theatre for fresh greenery and unique handmade items from local artisans!
The Winchester Little Theatre occupies a former Pennsylvania Railroad freight station built circa 1890. The hipped roof with large overhanging eaves supported with large brackets tied into the masonry walls provides cover for the freight loading dock. The interior was modified to accommodate live theatre performances by the Winchester Little Theatre. The Theatre moved into its railway home in 1974 and has provided critically acclaimed professional-quality live theatre to the community ever since. Since 2011, the Theatre has also been the home of PHW's Bough and Dough Shop during the Holiday House Tour weekend.
This year's proceeds from the Shop will benefit the Winchester Little Theatre Restoration Campaign. The Pennsylvania Freight Station is in need of substantial structural work to the masonry walls and roof, with the final goal being to restore the building's original appearance with a slate roof. PHW is committed to seeing this local landmark restored and remain a vital arts hub for the Winchester-Frederick County community with a pledge of $25,000 and additional donations based on membership support like the Bough & Dough Shop.
When you purchase artisan goods or greenery from the Shop this year, you will be helping Winchester Little Theatre realize their dream of restoring the Pennsylvania Freight Station to its exterior appearance circa 1890.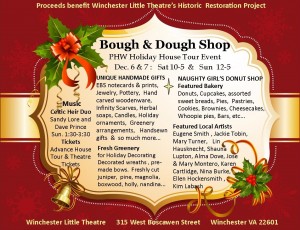 2014 Artisans and Gifts at the Shop
Unique Handmade Gifts
EBS notecards & prints, jewelry, pottery, hand-carved woodenware, infinity scarves, herbal soaps, candles, holiday ornaments, greenery arrangements, hand-sewn gifts, and so much more…
Featured Bakery
Naughty Girls Donut Shop — Donuts, cupcakes, pies, assorted sweet breads, pastries, cookies, cheesecakes, brownies, whoopie pies, bars, etc.
Featured Artisans
Eugene B. Smith Gallery, Jackie Tobin, Mary Turner, Lin Hausknecht, Shauna Lupton, Alma Dove, Jose & Mary Montero, Karen Cartlidge, Nina Burke, Ellen Hockensmith, Kim Labash
Greenery for Decorating
Freshly-cut pine, juniper, magnolia, spruce, nandina, holly, boxwood, decorated wreaths, and bows
Tickets
Advance tickets for the Holiday House Tour Preview Party and Daylight Tour, Winchester Little Theatre tickets by play or season