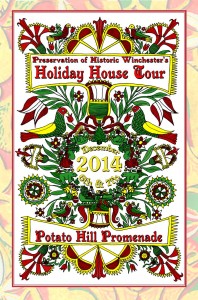 Welcome to Potato Hill, one of the oldest neighborhoods in Old Town Winchester. The area encompasses the gentle hill on South Loudoun and South Cameron Streets and the adjoining side streets.
The origin of the name Potato Hill is lost in the mists of time and subject to fanciful speculation. Theories range from the area being particularly well-suited to growing potatoes, the site of a farmer's market at the top of the hill where potatoes would roll off the back of wagons to be snatched by the residents, or perhaps most likely, an area with a high number of Irish immigrants. Whatever sparked the first use of the name Potato Hill was cemented into the history books by the 1850s, when "Potatoe Hill" was a frequent identifier of property transfers on South Loudoun Street.
Many of the buildings in this area are log, in whole or in part, and many of those likely contain remnants of Fort Loudoun. The fort, constructed by George Washington during the French and Indian War, never saw combat and was abandoned in the 1760s. Since the fort's wood was in good repair, local builders repurposed it for their new construction on Potato Hill.
Potato Hill had fallen on hard times 200 years later. Several homes were saved by Preservation of Historic Winchester's Jennings Revolving Fund. Others were "spin off" restorations enabled by PHW's neighborhood stabilization efforts. All of these buildings remain because of owners who were willing to peel back the layers of inappropriate changes and reveal the early American history waiting beneath.
There is no better time to see these success stories than during PHW's 50th anniversary year. Join us for the Potato Hill Promenade!
Map of the 2014 Holiday House Tour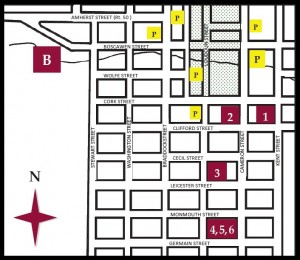 1. 219 South Kent Street—Martha Shickle
2. 221 South Cameron Street—Eugene and Sarah Smith
3. 510-512 South Loudoun Street—Joseph and Sharon Collette —
Preview Party House
4. 602 South Loudoun Street—David and Margery Wingenbach
5. 610 & 612 South Loudoun Street—Dr. John Chesson
6. 17 East Monmouth Street—Tommy and Sarah Beavers
B:
Bough & Dough Shop, 315 West Boscawen Street
— Saturday, Dec. 6 10 a.m.-5 p.m. and Sunday, Dec. 7 noon–5p.m.
Free parking is available the weekend of the House Tour at the Bough & Dough Shop lot, City-operated surface lots, and on-street along the tour. City Autoparks are $0.50 per hour. Please be mindful of residents when utilizing on-street parking. On-street parking is extremely limited in the Potato Hill neighborhood. Carpooling and utilizing City lots is recommended.