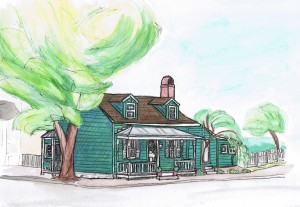 219 South Kent Street
The Home of Martha Shickle
This charming log cottage is one of the oldest extant structures on South Kent Street. It was likely built shortly after 1823 when part of Lot 142 was sold for $20 to Elizabeth Conrad. The cozy one and a half story cabin still retains many of its hallmarks as an early vernacular structure, such as a wood shingle roof, a solid vertical batten wood door, and a one story shed wing that formerly served as the milk and wash house. The home also incorporates Victorian-era gingerbread additions with delicate, stylized tulip sawn balusters on the porches.
This cottage, as well as several other nearby homes, was owned by the Hodgson family from 1899 until 1979, when the Hodgson Estate properties were purchased through PHW's Jennings Revolving Fund and rehabilitated by the new owners.