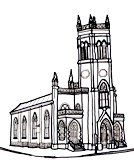 140 West Boscawen Street
Christ Episcopal Church
House Chairman Chris Ferguson
Christ Episcopal Church has been in continuous use as a sacred site in Winchester since its construction in 1828. The Gothic Revival-style building is dominated by the three-story bell tower crowned with finials and quatrefoil balustrades. A pointed-arch accented with a flower motif surrounds the double-leaf paneled wood doors. Of particular interest and beauty are the stained glass windows, installed in the late 19th century by the Gernhart Company of Baltimore.