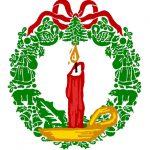 As we near the last hours before the 40th annual Holiday House Tour kicks off, here are a couple things to keep in mind:
Tickets are still available at the advance ticket sale locations:
Kimberly's, 135 North Braddock Street
Wilkins' Shoe Center, 7 South Loudoun Street
Winchester Book Gallery, 185 North Loudoun Street
Winchester-Frederick County Visitors Center, 1400 South Pleasant Valley Road
Tickets will also be available at the Bough & Dough Shop on December 3 and 4.
Admission to a single site on Sunday is $5. Pay at the door of the house you wish to visit.
If you have questions, the best place to find someone well-versed on the House Tour Saturday and Sunday is the Bough & Dough Shop at the Winchester Little Theatre, 315 W. Boscawen St. The Shop is open Saturday 9 AM-5 PM and on Sunday 11 AM-5 PM.
The normal PHW phone number (540-667-3577) and email (phwinc.org@gmail.com) will not be staffed from Friday-Sunday. Should the weather or some other disaster impact the tour, we will try to push notification on Facebook, the PHW blog, and the PHW voicemail message ASAP.
Watch for any changes about to the Saturday handbell concert and Sunday Lessons and Carols taking place at Braddock Street United Methodist Church at braddockstreetumc.org
The hours for the house tours are Saturday (Preview Party and Candlelight Tour) 6-9 PM, and Sunday (Daylight Tour) from 1-5 PM.
Note that George Washington's Office Museum, 32 W. Cork St., will be open on Saturday only, 3-9 PM. Washington's Office will not be stocked with House Tour tickets or booklets.
The Bell House, 106 N. Cameron St., will be open Sunday only, 1-5 PM. The Bell House will be stocked with House Tour tickets and booklets.
There will be complimentary warm drinks at the Bough & Dough Shop for all visitors as in previous years.
Costumed carolers from Winchester Little Theatre, organized by Nancy Ticknor, will once again stroll the streets and serenade tour-goers at the open houses between 2-4 PM on Sunday with festive holiday music. Carolers sing 4 or 5 holiday standards at each stop. They will start and end at the Winchester Little Theatre, and travel to the houses open on the tour.
The weather forecast is partly cloudy on Saturday, to rainy on Sunday. Precipitation is not expected to start until after 5 PM. Temperatures are expected to be in the mid-40s, falling to the low 30s overnight.
Have a safe and happy Holiday House Tour, everyone!