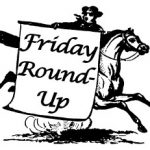 Happy Friday! We apologize for the radio silence most of this week as we finished up the printing and mailing for Holiday House Tour. Tickets are available now at all the ticket sale locations, and online ticket sales are being mailed as they are received. You can use the forms below, or on our website if the forms do not load in your email.
Don't forget, if you want to place a preorder with Nate Windle for some special custom arrangements and wreaths at the Bough and Dough Shop, you need to get your order in by next Wednesday, November 22 to guarantee fulfillment. Pickup will be at the Bough and Dough Shop Sunday afternoon on December 3.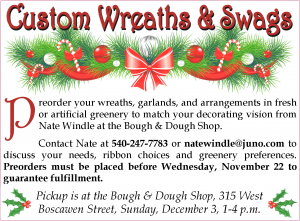 While we are still monitoring developments in the historic tax credit, we have a few other pieces of news to share:
Winchester City Council will vote on "R-2017-46, A Resolution to Urge the President of the United States and the United States Congress to Continue the Federal Historic Tax Credit Program and to Otherwise Provide with Respect Thereto" at the Nov. 28 regular City Council Meeting. We are proud to report the City's recommendation is to maintain the Historic Tax Credit as it exists because it has been an important tool in the redevelopment of local historic sites. You can see the resolution here.
The National Trust for Historic Preservation is launching the African-American Cultural Heritage Action Fund. The fund will be used to provide grants to African-American historic sites and train high school students through the Hands-On Preservation Experience (HOPE Crew). Visit their website to learn more or make a pledge to the action fund.
Open Culture posted the news that The Internet Archive has found a way to make some material published between 1923 to 1941 available for free online. While the first batch of materials utilizing this provision of copyright law may not be useful to local historians, it is a sign of things to watch for in the coming years.
Lastly, the PHW office will be closed on Thursday and Friday, November 23 and 24, for Thanksgiving. We anticipate the office being open as usual Monday-Wednesday, November 27-29. The office will likely be closed at least part of Thursday and Friday as we prepare for the Bough & Dough Shop setup.