First: Are you an artist? Do you know someone who is? Come visit PHW at the Hexagon House tomorrow morning, Aug. 19, between 10 AM and noon for an artist open house event to learn more about this year's Bough & Dough Shop and fill out an application to be one of our artisan vendors. Vendor space will be capped at 30 applications this year.
Looking at the current lineup of artist submissions, we could use more ornaments of various styles (we have had particular requests for Winchester-themed souvenir ornaments), holiday decor (including live or artificial greenery arrangements) and other unique holiday gift type items.
If you can't make the open house event tomorrow, you can find the information and application online at our website. But hurry – applications close September 1!
---
Second: PHW is aware of at least one person who would like to purchase 411 S. Loudoun St. and has begun the process to start the negotiations. With that in mind, the demolition request through the City was continued at yesterday's BAR meeting. As this is an ongoing situation, we likely won't have any further updates until September or later.
---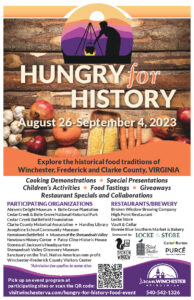 Third: From August 26-September 4, fifteen locations including museums, historic organizations, and community sites will come together to showcase the area's historical food traditions at "Hungry for History." Four restaurants and a brewery will also participate with historic recipes and special programs. There will be presentations, cooking demonstrations, how-to classes, children's activities, food tastings, special handouts and giveaways, special tours, agriculture related programs and more. Topics at the event will include history from many eras, spanning from Native American pre-contact up to the present day.
Dates and times for the activities vary depending on the site. Many of the activities are free of charge; an admission fee will apply to some sites. See the event schedule for details, or visit the website: https://visitwinchesterva.com/hungry-for-history-food-event/