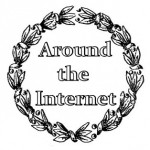 Missing your Friday Photos fix? Shorpy Historic Picture Archive has a whole category devoted to vintage Christmas photos between the 1850s-1950s. Although not local to Winchester, the Church of the Nativity image was particularly striking.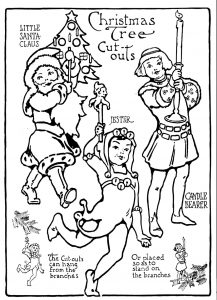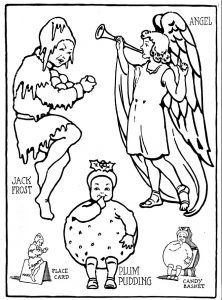 Perhaps you need a small artistic project to take a breather from the hectic holiday crunch? Here are two sheets from the School Art Magazine of December 1920 which are ready for you to adapt to your decorating needs, color, and cut out. Click on the images to download them at full size.
Holiday music has become an intrinsic part of the Christmas observances. To quench your need for vintage carols in an authentic format, the Library of Virginia has shared a set of sheet music from Hotel Richmond on their blog this week. However, if you find belting out a tune a little on the tame side, the Atlas Obscura writers have turned up some genuinely dangerous Victorian parlor games to amaze and astound you. While they may be authentic, we would not suggest recreating Snapdragon or full contact Blind Man's Bluff today!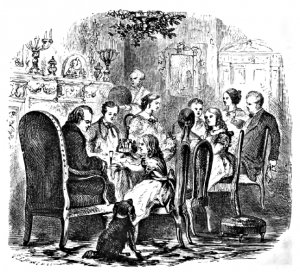 If folklore is more enticing than roughhousing or games of truth or dare, the Encyclopaedia of Superstitions, Folklore, and the Occult Sciences of the World for 1903 has a few choice tidbits for anyone hunting down forgotten Christmas traditions. To forecast the weather, "on Christmas day take twelve onions . . . and put salt on each one." Each onion is designated as one of the twelve months of the year. Check the onions again on Epiphany (January 6); if any salt remains piled on an onion that month is said to be dry, while if all the salt has melted that will be a wet month. To boost your health, tradition says "to bathe on Christmas day will secure freedom from fevers and toothaches." To increase your financial success for next year, "if you put all the silver you possess on the table set for the Christmas-day feast, the light shining on it from the Yule-fire will bring good luck and cause the silver to increase." Doubling up on this luck, it is also said to be particularly fortunate when Christmas falls on a Sunday, as it does this year. Find these and many more Christmas-themed superstitions starting on page 324 of the PDF of the encyclopedia!

Above all, warmest wishes for a wonderful holiday season, from the PHW family to yours!