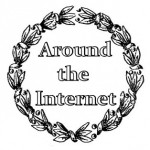 We normally associate stained glass windows with churches, but they also became popular for private homes in the Victorian era. You may have noticed the simple designs of small colored squares in some of our Winchester Folk Victorian houses, or maybe you have spotted the design at the Gables on the Boscawen Street side of W. H. Baker's home. For owners who wanted something a bit more upscale than a simple colored square window but a Tiffany window was out of the question, they might have investigated the Belcher Mosaic Glass Company.
Henry Belcher, a third generation stained glass artisan, developed an unusual technique for stained glass. The main hallmark of Belcher's unusual style is a tendency to use small triangular pieces of glass in gradient color palettes, creating an intricate design held together with his patented liquid lead soldering technique. The patents indicate the glass pieces were arranged in a mold, the liquid soldering material was injected into the mold, and the mold was tilted to spread the soldering between the pieces of glass. The technique was said to be faster to produce than a traditionally-crafted stained glass window, with the downside being the finished product is significantly heavier and harder to repair.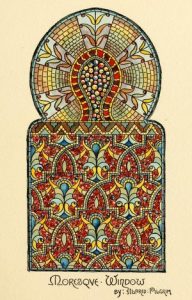 The mosaic glass was relatively short-lived, operating from about 1884-1897, and it seems the Belcher Mosaic Glass Company and its products were almost lost to history. That is, until stained glass experts were called in to examine an unusual piece in a private residence in Lansing, MI. More inquiries were made, and a similar window had been located in Cortland, NY. When the Cortland window fell from its frame, the Belcher tag was uncovered. Barbara Krueger undertook the scholarship necessary to put together an article for the spring 1994 Stained Glass Quarterly to bring this magnificent technique back into public knowledge. While the article does not appear to be available online in its full form, the Michigan Stained Glass Census has a synopsis of the findings available at their website.
New surviving examples of the Belcher Mosaic Glass windows and others that Belcher may have experimented on are still being found (many having been removed from their original locations and resold through architectural salvage or antique dealers). If you think you may have seen a Belcher stained glass window, a design catalog is available at the Internet Archive from the Winterthur Museum Library. The designs range from abstract color gradients, floral patterns, scenery, and animals.
Interested in learning more? Natalia Vogeikoff-Brogan documented an intriguing window of a possible experimental type at the American School of Classical Studies at Athens Director's residence. You may also want to visit the Facebook page to see photographic examples shared by stained glass enthusiasts, the story of conservation efforts of a Belcher window in Richmond by E. S. Taylor Studios, or see some of Belcher's patents for his mosaic glass molds.
Need help preserving and maintaining a piece of stained or leaded glass? Check out the National Park Service Technical Preservation Brief #33 for an introduction to the techniques.