While scanning some posters from past PHW events for our digital files, we found some individual photographs from events still attached to display boards. While they may be duplicates, we erred on the side of safety and scanned them for our digital collection. You can catch those images, as well as a few others, at the top of our Flickr photostream.
---
Do you have a copy of the Keith Williams print of Historic Buildings of Winchester, 1969 (click here for a detail from the Stewart Bell Jr. Archives holdings to refresh your memory)? A descendant of is on the hunt for a copy. If you have one you are willing to part with, please contact the PHW office so we can put you in touch with the seeker.
---
The Clarke County Historical Association will be hosting Colonial Kids Day on Saturday, July 10 at the Burwell-Morgan Mill (15 Tannery Lane, Millwood, Virginia 22646) between 11 AM to 4 PM. The 5th annual event features interactive activities including blacksmithing, craft making, colonial games, a scavenger hunt, the history of the Mill, living history interpretations, and grinding in action. Buy tickets ($5 per person) in advance at Eventbrite or at the event itself.
---
The African American Heritage Preservation Foundation has created an app and website listing more than 1,600 sites throughout the United States and Territories that focus on the contributions of African Americans to our nation's history. The app received an overhaul and relaunch in June 2021. Winchester's Douglas School, through its listing on the National Register of Historic Places, is one of the featured Virginia sites, but we know that more could be highlighted here. If you have knowledge of other sites that could be featured on this app and site, get in touch with AAHPF to raise awareness and visibility for these places.
We were also alerted to a virtual event Afro-Virginia: Black Placekeeping and Power on July 22 at noon. Justin Reid, Director of Community Initiatives, Virginia Humanities and Manager, Virginia General Assembly African American Cultural Resources Task Force, will discuss Virginia's contemporary Black cultural rights movement and his work promoting transdisciplinary, self-determined Black cultural placekeeping. Find out more and how to register for the free Zoom event at Brown University.
---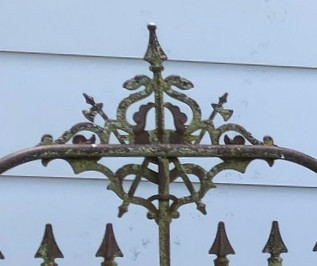 We had the pleasure to virtually visit the remnants of a wrought iron fence this week for some historical investigation. While it is a relatively small bit of fence, it fortunately retained the gate, which is one of the most likely places to find a manufacturer's mark or other distinguishing maker characteristics. This gate was by far the most distinctive we have had the pleasure of examining, with an elaborate crest on the top with crossed halberds, heraldic sea snakes, and scroll-like decorative flourishes around the central finial. Although the label where the maker's mark should be was not visible in the image, the gate design alone was unique enough that we could say with relative certainty it was a "Buckeye" wrought iron fence from the 1880s.
Naturally, having found such a distinctive architectural piece but never having heard of it before, it seemed like a good time for a little more investigation into the parent company. Buckeye fences were just one of the products produced by Mast, Foos & Company. Although founding dates have been contradictory, we are inclined to believe the company was founded in 1876 by Phineas P. Mast and John Foos in Springfield, Ohio, after Mast had undertaken earlier ventures in buggy and farm implements. In addition to the Buckeye fence, the company also produced wind engines, force pumps, lawn mowers, and lawn sprinklers. The company existed for almost 100 years after various acquisitions and remains well-known in Springfield, Ohio, particularly as Phineas P. Mast helped to found the local historical society. Read more about the Mast family and homes at Clark County History and explore a Mast, Foos & Company product catalogue at Archive.org.
Do you have an architectural research or identification question like this? Drop us a note and a photo at phwinc.org@gmail.com and we'll see if we can help.