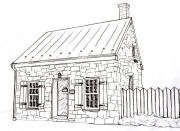 126 South Loudoun St.
Hill's Keep
House Chairmen: Jimmy Stewart and Emily Skiles
This vernacular limestone dwelling was constructed circa 1810. The deeply recessed wood door is flanked by 6/6, double-hung, wood-sash windows with wood sills and board-and-batten wood shutters typical of the period. The building, originally part of the Red Lion Tavern complex, has served as an ice cream factory, candy store, dwelling, printing shop, and the office of Preservation of Historic Winchester. It is currently the office of Winchester Storm. The building was moved from its original location at 8 East Cork Street in 2004.