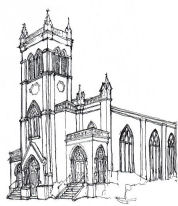 142 West Boscawen St.
Christ Episcopal Church
House Chairman: Chris Ferguson
Christ Episcopal Church has been in continuous use as a sacred site in Winchester since its construction in 1828. The Gothic Revival-style building is dominated by the three-story bell tower crowned with finials and quatrefoil balustrades. A pointed-arch accented with a flower motif surrounds the double-leaf paneled wood doors. Of particular interest and beauty are the stained glass windows, installed in the late 19th century by the Gernhart Company of Baltimore.
Before entering the church, visit the side yard which contains the tomb of Lord Fairfax, the proprietor of the Northern Neck of Virginia. The original church building was situated at the corner of Loudoun and Boscawen Streets on land given by Lord Fairfax. In 1827, the Parish took the name Christ Church and began the relocation process to the present location on Boscawen Street. The fashionable new church was built with the proceeds of the sale of the original church.
The interior of the church is lined with plaques commemorating rectors and parishioners from the 18th to 20th centuries. In the chancel, a glass top case holds silver and pewter pieces; one of the oldest being a pewter communion cup inscribed "Frederick Parish 1746."
Visit Christ Episcopal Church online for more information about their history and parish programs at www.christchurchwinchester.org. Further history may be obtained from the book The History of Christ Church, Frederick Parish, by Katherine L. Brown, et. al., available at the Handley Regional Library.