We had a great time at Oktoberfest! If you missed the event, PHW volunteers will be back again for Holly Jolly Celebration festivities in December.
Did you miss out on getting a copy of "Why Old Places Matter" at the October 4 book talk with Tom Mayes? Drop us a note at PHW if you are interested in purchasing a copy. We plan to have a number of copies available during the Bough and Dough Shop as a bit of a make-up. (We also hope to have the revised Limestone books in hand by then as well; keep your fingers crossed.)
Although it's hard to believe, October is halfway over. If you committed to a Holiday House Tour booklet ad, remember to get your ad in to PHW by end of day on October 31. You may email questions or ad files to phwinc.org@gmail.com. As always, we are eternally grateful to our major Holiday House Tour sponsor, Bank of Clarke County, and all our other advertising sponsors for enabling us to produce the full-color tour booklets and postcards we have come to enjoy. (Thanks to our advertising sponsors' support, we were also able to secure high quality printed tickets again this year!)
As some of you may know, we also had some issues processing online ticket sales last year for the Holiday House Tour via PayPal. In an effort to avoid the issue this year, you may begin ordering Sunday Daylight Tour tickets for December 8 online now through Eventbrite.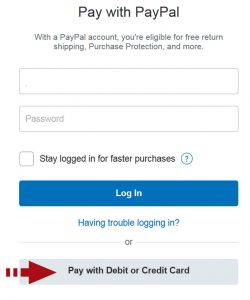 If you do not have a PayPal account, that's okay! Begin the checkout and when you are redirected to PayPal, scroll down past the log in information to the "Pay with Debit or Credit Card" option (highlighted with a red arrow on this sample image). You will be directed to the guest checkout option on PayPal.
You will be given the option for a printable PDF ticket from Eventbrite; we highly suggest you print them! You should also receive a reminder email from EventBrite prior to the event. The venue address is given for the Hexagon House, so if you have problems or questions during the tour you can visit PHW at the Bough and Dough Shop for a quick and professional resolution, pick up some tour booklets, or get a free hot drink and to do a little shopping.
If you run into other issues with Eventbrite, let us know at phwinc.org@gmail.com, as this is the first time we've used their platform for a paid event and we might have missed something.