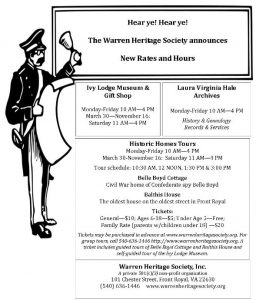 We know a number of our members and readers are following the development at the old Winchester Memorial Hospital site on Cork Street. From the Winchester Cit-E News from January 23, " After much discussion, Council decided to table the item until the February 12th Work Session in order to allow Council more time to gather additional information from the applicant and to review public feedback." You can find the documents relating to the application starting on page 94 of the agenda packet for January 22. There is much to read and digest here, but we recommend reading through the neighborhood concerns and worries to gather a fuller understanding of the issue prior to the February 12 meeting.
While the Old Hospital property is outside of the HW zoning overlay that falls under BAR purview, it is in our Winchester National Register Historic District expansion in 2015. Readers may wish to refer to the following publications for more insight on compatible new construction in historic areas:
New Construction within the Boundaries of Historic Properties
New Additions to Historic Buildings
Regulating New Construction in Historic Districts
Historic Districts: Preserving the Old with the Compatible New
Can Modern Architecture and Historic Preservation be Reconciled? The Definition and Application of "Compatible" as used in the DC Historic Preservation Act
And should anyone be looking for one of the essays printed in Old & New Architecture: Design Relationship printed by the National Trust, PHW has a copy of the book available in our office library.
Last but not least, we have pulled the PHW file on the 1990 rezoning of the Old Hospital site and we are happy to provide copies of our statements to researchers.
Looking to expand your historic image and content searches for Virginia and West Virginia? The Digital Public Library of America has a new hub service Digital Virginias, with more than 58,000 items from the University of Virginia, George Mason University, William & Mary, Virginia Commonwealth University, Virginia Tech, and West Virginia University. A quick search for Winchester in this subset turned up not just photographs, but also a wealth of medical records for West Virginia soldiers treated in Winchester and telegraphs exchanged during the Civil War. You might want to take a look at some of the school images from the University of Virginia Library in particular; they seem to show the original John Kerr School classroom in 1921. Let us know if you find something intriguing!