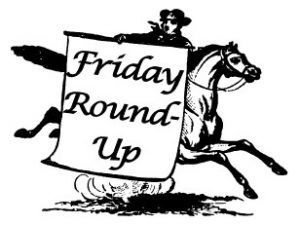 Happy Friday! We had a great time kicking off PHW's 54th year last Sunday, and we have more great things on the horizon. First, our holiday schedule for the Fourth of July:
Closed Tuesday, July 3, but stop by our table near 28 S. Loudoun St. (the Godfrey Miller House) during Rockin Independence Eve and pick up some self-guided walking tours and other PHW swag (donations kindly accepted). The event runs from 5-11 PM; we're not sure how long our supplies will hold out, so you might want to stop by early!
The PHW office will be closed all day July 4 and July 5.
In keeping with the patriotic theme this time of year, we are happy to report the Clowser Foundation has secured their lease on the Clowser House in Shawneeland for the next 98 years. This was truly a labor of love for this amazing group, and we are beyond thrilled for them. Fabulous job, everyone!
Perhaps a bit ironically, but with summer comes the official call for Bough and Dough Shop artisans! We are trying to go "high tech" in our process this year. Apply with our online version of the Bough and Dough Shop jury form (requires a Google account)
or go with the reliable old school print and mail forms (PDF).
If you are thinking of applying, we are looking for unique handcrafted items. We would especially like to find a basket-maker, another potter or two, and perhaps jewelry, but we are very open to reviewing any submissions. We anticipate having about double the interior floor space we had at our longtime Shop location at the Winchester Little Theatre and we would love to showcase many more artisans this year. Don't be shy, apply!