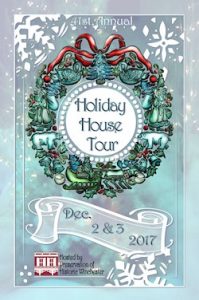 Time flies in November! We are expecting the program booklets to arrive late Monday, but if you have a strong internet connection, you can view or download the booklet as a PDF (about 22 MB).
Online ticket sales for the Holiday House Tour are available now at www.phwi.org. We will plan to mail online orders received by Friday, Nov. 24. For orders placed after that, keep a copy of your receipt to use as your temporary ticket.
We are planning for the tickets and program booklets to be available at our physical sale locations around Winchester by the afternoon of Tuesday, Nov. 14 at the following locations:
The Final Yard, 33 East Gerrard Street
Kimberly's, 135 North Braddock Street
Wilkins' Shoe Center, 7 South Loudoun Street
Winchester Book Gallery, 185 North Loudoun Street
Winchester-Frederick County Visitors Center, 1400 South Pleasant Valley Road
If you are waiting to see how the weather pans out that weekend, tickets will also be available at the advance sale price at the Bough & Dough Shop at the Winchester Little Theatre, 315 West Boscawen Street, on Dec. 2 and 3.
And as in past years, if you only want to visit a site or two or take the Sunday walking tour, each site is a $5 single admission paid at the door (excluding the Preview Party home, which is full price to cover the food and drink).