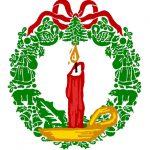 Holiday House Tour Tickets will be available for purchase by November 15 at the following Winchester locations:
You may also purchase House Tour Tickets through the mail using the form on page 6 of PHW's newsletter to mail in a check, or through the PayPal buttons below. Tickets will be mailed to you if bought before Nov. 28. After that date, print your PayPal receipt or have the email on your smartphone to show your proof of purchase.
Please take a moment to thank the Holiday House Tour Advertising Sponsor Bruce, Renner & Company, PLC for supporting PHW and local preservation!