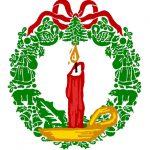 It's that time again! PHW is at work on lining up sponsors for our 2016 Holiday House Tour. For many of us this event officially begins the holiday season with its guided tours of the festively decorated historic properties in Winchester. In addition to being a fun community tradition, the Holiday House Tour generates the monetary foundation that enables us to continue our mission to preserve the best of the area's past.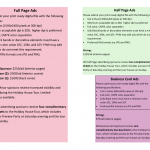 As part of our promotional materials for the event, PHW will be producing a full color program booklet again this year. I invite you to place an ad in the booklet to show your support for PHW and to promote your business to a demographic interested in Old Town Winchester, its history, and its architecture. Ads are available in full page (5″x8″), half page (5″x4″), and business card (2″x3.5″) sizes. Enlarging the image shows the sizes, costs, and benefits of the sponsors' ads in the program.
Please reserve your spot soon – ads are due by 5 PM on October 28 to ensure inclusion in the program booklet, which will be distributed in mid-November to ticket sale locations and local visitor centers around Winchester. Include your business name, contact information, and ad size in your reservation. Your print-ready digital ad files may be emailed to phwinc.org@gmail.com or submitted on CD or flash drive at the PHW Office, 530 Amherst Street, Winchester, VA 22601. If you have questions, do not hesitate to email us or call us at 540-667-3577.
Thank you for your support, and we hope to see you at our 40th Holiday House Tour this December 3 and 4!