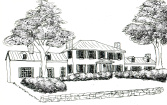 311 Fairmont Avenue
Fair Mount
Home of Mr. and Mrs. Richard Helm
Bruce Downing, House Chair
Brookie Phillips, Decorator
Large boxwoods guide visitors up the slate walkway to one of Winchester's earliest houses. Constructed in the first decade of the 1800s, this house is an excellent example of a transitional Georgian-style to Federal-style dwelling. Fair Mount was built for Joseph Tidball by a local carpenter named Lewis Barnett. The two-story white stucco main structure is flanked by one and one half story service wings which were added shortly after the central portion was built. The graceful interior woodwork illustrates the influence of national tastes on local builders. The first-floor plan is comprised of four rooms with a lateral stair in the main hall, which is in contrast to the highly formal and sophisticated five-bay Georgian-style façade. Although the house was remodeled in 1929 using the Colonial Revival style, it has retained many of its original features and has great integrity. Fair Mount is known in recent times as the birthplace Preservation of Historic Winchester. The home was added to the Virginia Landmarks Register in 2003 and the National Register of Historic Places in 2004.