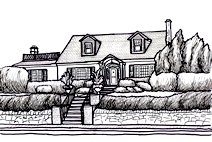 205 South Washington Street
Ardis Cullers
House Chairman Mark Lore
Constructed circa 1951 by Boyd Hamman, this one-and-one-half-story home was designed in the Colonial Revival style with a Cape Cod form. Two dormers, each with a front-gabled roof, extend from the eastern slope of the roof. The central bay on the façade contains a single-leaf, paneled wood door surrounded by four-light sidelights and a semi-elliptical fanlight. This was the home of Mr. and Mrs. Harold Patton, who established Patton's Furniture Sales in 1957. The most striking feature of the house's decoration is the series of eight large and two small original Audubon engravings from the early 1800s, purchased from Arader Galleries in New York. They are from a series of books that James Audubon and Robert Havell created, intended to depict all birds and animals in North America.