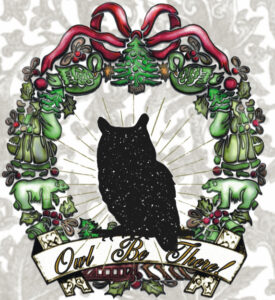 Preservation of Historic Winchester welcomes you back to our 46th annual signature fundraising event. Guided tours of three private homes will lead you through building styles of the 19th century, while the fourth site will take you to a Georgian-style church. Stop by our pop-up holiday shop for sweet treats, holiday décor, and fresh greenery before or after the tour. You don't want to miss our year-end celebration – Owl Be There!
Owls may not be a traditional Christmas bird, but they are a recurring winter motif. According to Iroquois tradition, hearing the call of an owl nearby was a sign snow was on the way. Since the non-migratory birds may be easier to spot in the winter, owls and chilly weather have become deeply associated with each other. The owl was chosen as our 2022 mascot for his symbolic associations with wisdom, protection, and winter.
Date: Sunday, December 4
Time: Noon-4 PM
Tour Sites:
119 East Clifford Street
202 South Washington Street
216 South Cameron Street
306 East Piccadilly Street
Admission: $25 in advance, $30 at the door
Ticket Sale Locations: Kimberly's, Winchester Book Gallery, Winchester-Frederick County Visitors Center, The Bough & Dough Shop at the Hexagon House (starting Nov. 18), and online through Eventbrite (starting Nov. 15).
Other Information: The tour will not be rescheduled for inclement weather. Call (540) 667-3577 or watch our Facebook for announcements. Be prepared to spend some time waiting outside and wear comfortable, low-heeled shoes. No photography inside private residences, please!
Free parking is available at nearby surface lots and on-street. Please be mindful of residents' driveways when utilizing on-street parking. City autoparks are self-service and open 24 hours a day. Rates at Braddock, Court Square, and George Washington Autoparks are $1.00/hour. Loudoun Autopark is $0.50/hour.