We hope you enjoyed the offerings of last week while the PHW office was on vacation. We spent our week off doing proper preservation things, like scraping and painting wood porch elements. We are now ready to start the second half of the year here at PHW, which will culminate with the Bough & Dough Shop and Holiday House Tour.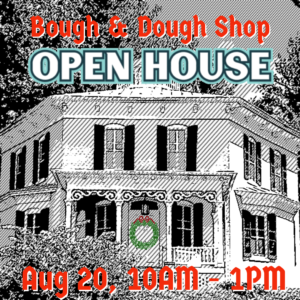 To get prepared for the Shop, we are bringing back our Bough & Dough Shop Open House and Call for Artists on Saturday, August 20, 10 AM – 1 PM. The informational open house for the 46th annual Bough & Dough Shop will be held on the first floor of the Hexagon House, 530 Amherst St.
The boutique holiday pop-up shop will be held Nov. 18-Dec. 11, 2022 to support the organization's fundraising for local preservation projects. PHW is seeking new artists crafting unique handmade items and holiday décor to expand the shop's offerings for 2022. We invite anyone interested in applying to stop by to see the space in person and find out more about the event. Prospective artists are encouraged to bring portfolios or example pieces for the jury process. Application forms will be available at the event. You can also find the informational sheet and application on our website in advance.