Thank you to everyone who came out to the house tours last weekend. Early reports indicate about 300 guests came through the houses, and around 480 shoppers visited the Hexagon House over our run. The weather cooperated and we were able to enjoy two groups of Winchester Little Theatre costumed carolers, along with the delicious hot chocolate prepared by Phyllis Breidinger at the Hexagon House. Overall it was a great tour, and we only heard positives about the homes. Be sure to thank the homeowners and volunteers for opening their homes and giving their time during our 45th annual event next time you see them!
As is usual, a few items have ended up in a "lost and found" bin, which we will have at the Hexagon House. If there's an item you think you may have dropped at the shop or during the tour, please give us an email at phwinc.org@gmail.com or call 540-667-3577 to see if it was turned in. We usually hold items until mid-January.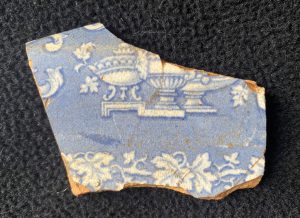 One of the found items definitely did not come from any tour goers or shoppers. A fragment of blue and white glazed pottery was uncovered at the Hexagon House. To our knowledge, this is the first bit of discarded pottery that has been unearthed here. The pattern appears to contain ivy leaves and a grouping of urns or vases. Thanks to the sharp-eyed shopper who spotted it and brought it to us!
As we are entering the holiday season, our projected schedule through the rest of the year will be:
Open Monday-Thursday, Dec. 13-16 (please visit before 3 PM as we have a number of meetings in the afternoon of this week)
Out of office all day Friday, Dec. 17; the next "West of the Blue Ridge" blog entry will be posted
Closed for winter holidays December 20-January 2
Because the holidays both fall on Fridays this year, we will likely only have abbreviated Friday blog posts for Dec. 24 and Dec. 31.
Normal office hours and daily photo captions return January 3, 2022.