Thanks for your patience as we hold the announcement of the house line up for the Holiday House Tour. We can confirm tickets will be available for purchase starting November 15 at the Bough & Dough Shop at the Hexagon House, Kimberly's, Winchester Book Gallery, and the Winchester-Frederick County Visitors Center. An online purchase option will also be available, along with a digital version of the program booklet.
To tide you over until we have more updates on the tour side, we've prepared a visual guide for our Bough and Dough Shop. The schedule for 2021 is going to be a little different than our past years', so to help you plan what days the shop will be open, we have created a calendar below. Be sure to visit the Hexagon House on the days highlighted in yellow to do some local shopping between 10 AM and 5 PM. Please note we are reducing the shop floor space to just the kitchen and the greenery on the back porch this year.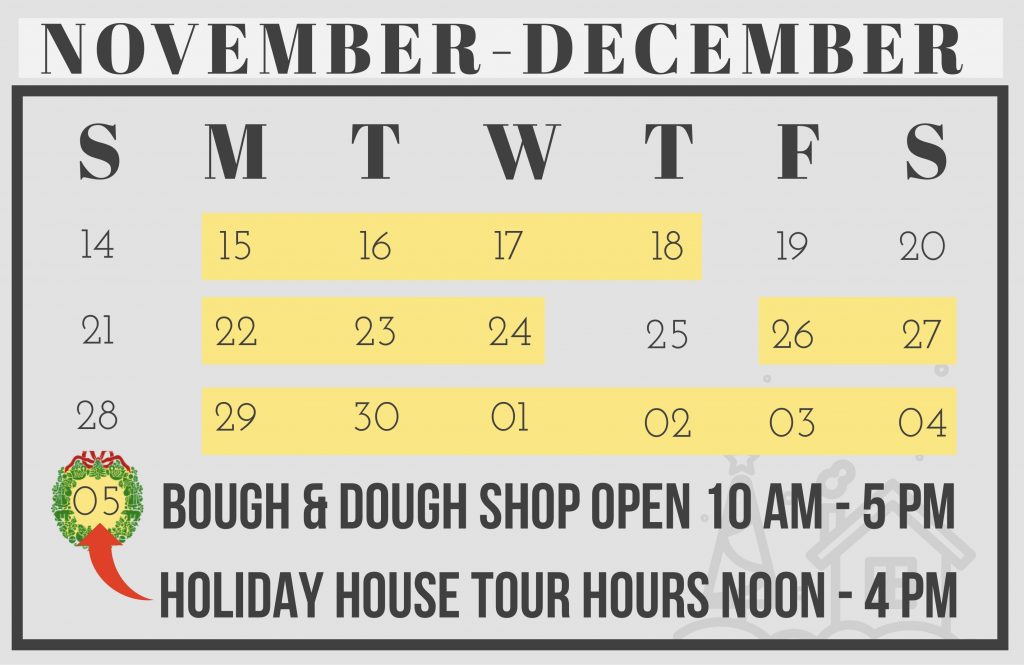 We will most likely be in need of evergreen cuttings for the "bough" side of the shop. If you have plans to trim or remove cedar, pine, juniper, boxwood, magnolia, holly, or other greenery in late November, we will be grateful to accept your clippings at the Hexagon House during the Shop. We recommend making large drop offs prior to 10 AM, after 5 PM, or on our closed days to prevent congestion in the parking lot with shoppers. Volunteers may be able to trim and haul smaller plants for you. If you have questions about greenery donations, please contact us at phwinc.org@gmail.com or 540-667-3577.
---
PreserveCast has an interview up with Merrill Hoopengardner to talk about the historic tax credit. From the podcast description: "In mid-September, House Democratic-led committees approved a more detailed $3.5 trillion package of bills with HTC enhancements similar to the HTC-GO (H.R. 2294). Next in the legislative process, the bill must move to the House floor, pass the House, pass the Senate, and be signed into law. Washington insiders believe that a final bill will be negotiated with the Senate before it goes to the House floor and is likely to be significantly reduced in both size and scope. If passed, the infrastructure bill would include the most substantial enhancements to the Historic Tax Credit in a generation. To support the efforts in getting these provisions across the finish line, please reach out to all Democratic Senators and ask them to support the HTC enhancement provisions included in the House infrastructure bill. To learn more about how you can contact your representative, click here."