The music for this installment is "I Got a Hurtin' in My Right Side."
Adapted from "Introduction to Metals" by Virginia L. Miller in the "Valley Pioneer Artists and Those Who Continue" exhibit catalogue.
Of the various tradesmen drawn to the Shenandoah Valley, the blacksmiths, tinsmiths, coppersmiths, and ironworkers were vital. Items encompassing daily needs to high-end luxury items were produced by these artisans. In many cases, the metalworkers collaborated closely with other craftsmen to create finished products like pie safes and clocks. By the late 1780s, the Lower Shenandoah Valley had approximately four silversmiths and one or two clockmakers. By 1830 this number had increased appreciably and metalworkers expanded into jewelry, a reflection of the growing affluence of the area.
Apparently the earliest workers to arrive were the tinsmiths and coppersmiths, who made household utensils, pots, and kettles to order. Tinsmiths do the majority of their work on cold metal through cutting, shaping, punching, and soldering pieces. Local smiths John Nulton, George Reed, and John Richardson all had copper teakettles exhibited during "Valley Pioneer Artists and Those Who Continue." Other known smiths of the area are Joseph Harry, Abraham Nulton, and William Grim. The Nulton family in particular continued as tin and coppersmiths in Winchester well past the Civil War.
Cooking utensils and stoves were not the only household goods commonly produced, repaired, or sold by tinsmiths. The pie safe or food safe was another essential household piece in the era before refrigeration. These pieces, made in conjunction with a cabinetworker, generally feature a freestanding wooden frame on legs to elevate the bottom shelf from the floor. Characteristically, there are two hinged doors containing tin panels that allow access to interior shelves, and usually two small drawers above. The panels are ventilated with punchwork to allow heat to escape, but the overall design is intended to prevent pests from accessing the perishable foodstuffs or other valuables stored inside. Punchwork is European in origin and is created by punching the inside of the tin with a round-ended chisel. According to the 2014 MSV exhibit "Safes of the Valley," the punched tin panels found in food safes often featured animals, including birds, leaping stags, roosters, and horses in Winchester and Frederick County. A Facebook page is still actively documenting new safe finds by the exhibit curators.
---
Blacksmiths, on the other hand, work their metal (generally iron) in heat to cast, shape, and forge agricultural implements, tools, hardware, utensils, and other items. To make cast iron pieces, first the iron was melted in the furnace, then the molten iron was taken from the bottom of the furnace and cast into sand molds on the furnace floor. Pots, firebacks, stove plates, weights, and other small objects were cast, as well as irregular bars called pigs. These lumps of cast iron were sold to blacksmiths or small forges. Pigs were later reheated and forged by a huge hammer, usually driven by a water-powered wheel, into wrought iron. This process greatly increased the strength and malleability of the iron.
Lewis Stephens started an ironworks as early as 1760 about twelve miles from Winchester with three Pennsylvanian partners: John Hughes, Samuel Potts, and John Pottiac. Pennsylvania Quaker Isaac Zane, Jr. began his career as ironmaster at the age of 24 by purchasing a share in this blast furnace, and by 1768 he became the sole owner. This ironworks, known as Marlboro Furnace, was one of the largest and most prosperous ironworks in the area.
A bar of pig iron found locally almost undoubtedly came from the Marlboro Furnace. In addition to "pigs," the Marlboro Furnace also manufactured cast iron stove plates, firebacks, andirons, and other small items. During the American Revolution, it was a major contributor of cannons and ammunition to General Washington's army. Zane died in 1795, and the ironworks was shuttered in 1828. Even the hamlet that sprung up around the furnace has largely faded away, leaving as its legacy numerous household castings that reflect Zane's sophistication and refined taste.
---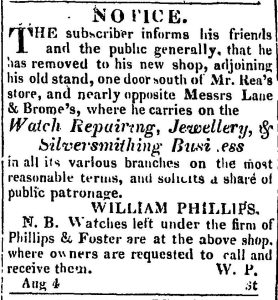 Two other types of metalworking of a more luxurious nature also appeared early in the Shenandoah Valley – silversmiths and clockmakers. These professions seemed to go hand in hand, and often included jewelry in their repertoires. The coin silver, or early American silver made from melted-down coins, that was produced in the Valley was predominantly flatware: teaspoons, tablespoons, sugar tongs, and ladles. Fewer pieces of hollowware such as salts, beakers, sugar bowls, cream pitchers, and teapots were made, probably because they required more silver and thus were more expensive.
William Phillips was working in Winchester in the early 1800s. Originally trained as a silver bucklemaker in England, he came to America as an indentured servant. After a brief period of work in Middletown, he found his permanent home in Winchester. Proclaiming himself as a watchmaker, silversmith, and jeweler, he advertised his services in partnership with Daniel Hartman in 1802. The partnership of William Phillips and John Foster began in 1817. Silver tongs (1802-1814) and a toddy ladle (1817-1820) are some surviving examples of coin silver produced locally by Phillips.
Middletown was known as a center for clockmaking as early as 1766, starting with wooden gears before moving on to brass and finally elaborate eight-day clocks. Jacob Danner of Middletown, who was a also a surveyor, created both clocks and mathematically-precise surveying equipment. An example of his work, a surveyor's compass invented by Samuel Kern and executed by Danner, is part of the National Museum of American History.
The son of a Quaker clockmaker, Goldsmith Chandlee (1751-1821) moved to the Lower Valley about 1775. From his shop in Winchester he made clocks, surveyor and surgical instruments, compasses, sundials, telescopes, and other items. By the time craftsmen began to locate in the Lower Valley, lead was being used infrequently; however, Chandlee used it to great advantage when making sundials (c. 1800). Brass was also used by Chandlee when he made surveyors' instruments and scales as well as sundials and the trimming on clock faces.
Perhaps one item most out of reach for the average household was that of a large case clock. The Valley had several clockmakers talented in the production of said pieces, combining woodworking, clockmaking, and even reverse glass painting skills to create a finished product. Some of the most beautiful local examples were created by Caleb Davis. A Woodstock clockmaker, watchmaker, jeweler, and artist who worked briefly in partnership with Jacob Fry between 1796-1800, Caleb Davis clocks are distinguished by their scenic painted lunettes. This example is one of six Davis clocks known with the painted lunette. The fluted quarter-columns are characteristic of Woodstock clock cases.
Join us next time on March 18 for a look at portraiture in the Valley!