We hope you are staying safe and healthy as you celebrate Apple Blossom this year. At PHW, we are doing what we do best – finding interesting historical tidbits to share. This week, we are focused on the festivals of yore. Enjoy the apple blossom themed poem and articles highlighting some past blooms that we have found, and be sure to click the article links to see the original newspaper sources. All are available on the Library of Virginia's Virginia Chronicle archive.
---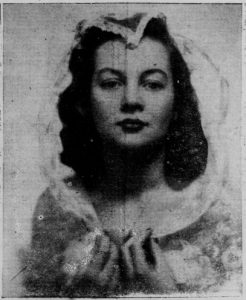 When It's Apple Blossom Time In Old Virginia 
When it's apple blossom time 
In old Virginia and the bees 
Are busy buzzin' in the many 
Many million apple trees, 
I'm going to crank my old jalopy 
And go chugging everywhere 
To see the beauty of the orchards 
And to breathe the scented air; 
And the mocking bird a-singing 
In a blooming apple tree is just 
A pleasure worth the trouble 
Going miles and miles to see, 
It's just a satisfying sight for 
All—though be they old or young— 
To see the beauty and to hear 
The sweetest music ever sung. —W. B. Dennis.
Virginia Star, Volume 29, Number 43, 15 April 1948
Apple Blossom Fete Program: Fifth Annual Festival Offers Many Attractions on Thursday and Friday. Winchester, May 2.—The official program of the fifth annual Shenandoah Apple Blossom Festival here May 3 and 4, announced Monday by Ray Robinson, director-general, provides for entertainment of visitors almost continuously. Apple orchards came through the big week-end snowstorm undamaged and it is expected that the buds will be open for the event. It has been estimated by Federal and state horticulturists that there are 11,000,000 trees in the commercial orchards of the district, embracing the Blue Ridge country from around Adams county, Pennsylvania, southward to Roanoke, Va. reached by good roads. (Virginia Star, Volume 9, Number 46, 3 May 1928)
APPLE BLOSSOM FESTIVAL OPENS: Leaden Skies of Early Morning Give Way to Bright Sunshine As Queen Shenandoah IX Reviews First Parade of Human "Apple Blossoms." WINCHESTER, Va., May 4.-(AP)— Leaden skies of the early morning broke and made way for bright sunshine which cast a golden lustre over the hillsides and valleys as the ninth annual Shenandoah Apple Blossom Festival was inaugurated today. A parade of "human blossoms," 5,000 school children of Winchester, nearby counties in Virginia and West Virginia opened the event. Miss Helen Ames Washington of Philadelphia, as Queen Shenandoah IX, reviewed the parade from a specially constructed stand. With her was Paul Claudel, French ambassador, who was selected to place the crown of apple blossoms on her head this afternoon. (Suffolk News-Herald, Volume 10, Number 38, 4 May 1932)
APPLE BLOSSOM FESTIVAL LARGELY ATTENDED. Winchester, Va., May 6.– This city was slowly settling down to a normal pace this week following two days of pageantry and festivity in celebration of the 17th annual Shenandoah Apple Blossom festival here last Thursday and Friday. A crowd estimated at 50,000 lined the streets Friday to witness the grand finale event of the celebration– "The Trail of the Pink Petals," a grand feature parade that wound over a five mile route and lasted for two hours. Heading the procession, as befitted her regal capacity, was Senorita Lillian Somoza, daughter of the president of Nicaragua, who Thursday was crowned Queen Shenandoah XVII by Dr. Henry F. Grady, Assistant Secretary of State. (Southside Sentinel, Volume 44, Number 51, 16 May 1940)
Blossom-less Blossom Festival Scheduled. A blossom-less Shenandoah Apple Blossom festival will go on, as scheduled May 2 and 3 in Winchester. Thursday, the national apple blossom majorette contest was scheduled at 10 a. m., with the coronation of Queen Shenandoah XXX at 2:30 p. m. "In All Generations," a pageant written and directed by Dr. Garland R. Quarles, presentation times are 3 p m. Thursday and 10:30 a m. Friday. Thursday evening festivities include a firemen's parade at 6 p. m., a fireworks display and a ground display of a Jamestown 350th anniversary scene at 3 p. m., at 9 p. m. a square dance, and at 10 p. m. the queen's ball. Seven high school bands will spark the parade and upwards of 20,000 people are expected to see it. (Farmville Herald and Farmer-Leader, Volume 66, Number 64, 3 May 1957)