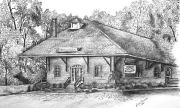 The Winchester Little Theatre
315 W. Boscawen St.
Chairman: Jim Carter
Shop Co-Chairs: Darla McCrary and Debra L. Johnson
The Winchester Little Theatre is the site of the Bough and Dough Shop.
The Shop offers fresh cut greenery—including boxwood, magnolia, and holly—for your holiday decorating. Baked goods and handcrafts from local artists are available for gift-giving. This year's lineup includes Jackie Tobin with old fashioned hand crafted ornaments, crafts, and jellies; Sharon Boggs of The Potomac Bead Company with jewelry; Lin Hausknecht with handmade pottery; Kathy Manuel with historic building hand painted ornaments; and other locally made items like soap, jellies, and potpourri. Winchester Little Theatre will also have gift certificates available for sale during the Shop hours.
Be sure to stop by the Shop from 10 AM-5 PM on December 3 and noon-5 PM on December 4 for a jump on your holiday shopping and decorating needs. Last minute advance tickets can also be purchased at the Shop. Don't forget your complimentary hot chocolate and cider!
The theatre occupies a former Pennsylvania Railroad freight depot built circa 1890. The hipped roof over the brick exterior provides cover for the freight loading dock. The interior was modified to accommodate live theatre performances by the Winchester Little Theatre. They moved into their railway home in 1974 and have provided critically acclaimed professional-quality live theatre to the community ever since.  The current season has had two runaway hits, "The 39 Steps" and "The Foreigner", and is on track to set new records for audience enjoyment in 2012.
Winchester Little Theatre is also spearheading the volunteer carolers in period costume for this year's musical entertainment. Look for the carolers at the Preview Party on Saturday evening and during the tour on Sunday. For more information on how to volunteer to carol, call 540-662-3331 and leave a message.
Click here for the story on the carolers by Charlotte Eller in the Winchester Star (login required).