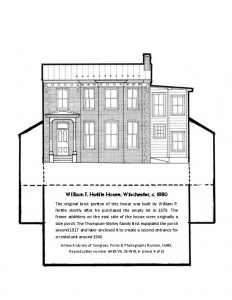 As we reach the midpoint of May, PHW is still in a holding pattern to see how we may be able to conduct the Annual Meeting in June (originally planned for June 14). We plan to make a decision on how to conduct the meeting by the end of the month. Stay tuned for details!
One thing we did learn is that our bylaws do not allow for organization business to be conducted by means other than face to face meetings. To ease some of this uncertainty in the future, a bylaws edit is being discussed by the board of directors. It has been ten years since the last edit, so a few other changes and clarifications have also been proposed. As with the last time the bylaws were updated, digital and print versions showing the changes will be provided to the membership prior to the meeting if a bylaws change is to be considered.
Along with the Annual Meeting, we traditionally hold our preservation awards in June. If you have a person or project to nominate for a 2020 award, use our form. The awards are not a necessary part of the Annual Meeting, but it is always good to recognize preservation success stories and outstanding leadership that has happened in our community.
Although the state may be slowly reopening, PHW recognizes most of our members and clients likely fall into some of the high risk categories. We ask that you continue to contact us by email for most questions, as we can fulfill most of your needs for information through that method without requiring face to face interaction. If you would like to pick up a copy of the Limestone book or do other interactions that must be done in person, please email phwinc.org@gmail.com or leave a message at 540-667-3577, as we will continue to be open by appointment only. This state of operation will continue until ShenArts, our upstairs neighbor in the Hexagon House, is also ready to reopen their office on the second floor.
To end on a happier note, we are in the works planning for our Bough and Dough Shop. While we may not know exactly what our operation guidelines will be, we are currently working to create a curbside pickup ordering process for at least some of the goods we typically sell. That also means we are accepting applications for new artists. If you or someone you know creates unique items you'd want to see in our shop, download the informational packet and see if we're a good fit!