As hard as it is to believe, May is almost upon us. The month is special to preservationists, as we take time to celebrate National Preservation Month. If this is the first you've heard of it, last year the National Trust for Historic Preservation wrote a brief history of the event, which started as a week-long celebration in 1972 and has since expanded into a full month. Many organizations, like PHW, time their awards and recognition of endangered and preserved properties to coincide with the national event.
While it may be harder to get out and enjoy the fruits of historic preservation this year, you can explore the 31 ways the National Trust invited anyone to celebrate last year. Many are still doable, even with social distancing. If you take the list as a challenge, let us know about your adventures on our Facebook page!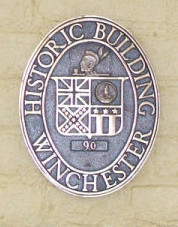 Although it may be late notice, if you have wanted a Winchester historic building plaque, May is traditionally the time those applications are reviewed by the Board of Architectural Review. You can find the guidelines and form online at the City's website. If you need some help locating history on your building, feel free to contact the PHW office at phwinc.org@gmail.com and we can email copies of digital material to you for your application (or just for your records).
If you have been out and about walking during quarantine, you might have the perfect eyes on the street to nominate projects for a 2020 PHW preservation award. You can find the form online at the PHW website. You can find the list of past people and projects that received recognition on our award page. If you can think of a person or project worthy of recognition this year, let us know as many details as you can and the PHW committee will do the rest!