Spring is just around the corner, and so Preservation of Historic Winchester draws closer to the end of another year. We usually take this time to let our current members know what we accomplished last year and invite you to renew your membership. This year, we are reaching out to all our members and social media followers to let you know some important news.
Last year was filled with high points like the 275th anniversary of the founding of Winchester activities, the republication of Winchester: Limestone, Sycamores & Architecture, and the presentation by Tom Mayes of Why Old Places Matter. The end of 2019 was capped by the Holiday House Tour and the Bough and Dough Shop, both successful fundraisers and educational programs.
At the same time, the year was marred by losses of buildings in the Historic District and to our own membership. All those who passed will be sorely missed, but perhaps none as much for the day to day operations of PHW as Sherry Bosley. After essentially acting as a volunteer secretary for the past fourteen years, the hole she left is still being felt. To honor her legacy of willingness to learn and humble yet unwavering work ethic, the PHW board approved a scholarship for local students bearing her name.
While we hope you will renew your membership, we also hope you will be generous enough to add a few extra dollars to the scholarship fund. We are currently just over $2,000 of an initial $10,000 funding goal. Our aim is to encourage students who have a passion for historic preservation who can continue the memory of Sherry Bosley and the goals of PHW.
While we may need to curtail in-person activities for the foreseeable future due to the coronavirus restrictions, we invite you to follow our weekly updates on social media for further programming changes or updates. The PHW office will be open by appointment only for the foreseeable future in keeping with the arts and historic preservation community response.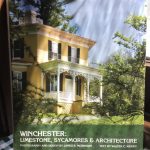 The much anticipated Limestone book launch party on April 3 and 4 was one of the casualties of the coronavirus restrictions. In an effort to make the book accessible, it is now available for purchase on PHW's website. Orders will be shipped in as timely a manner as possible.
Thank you for continuing your support of PHW as we live through a period of change and uncertainty. We will do our best to continue supporting our members, the community, and the city.