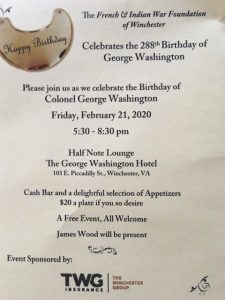 Looking for something to do tonight? The French and Indian War Foundation invites you to celebrate George Washington's 288th birthday with them on Friday, Feb. 21, 5:30-8:30 PM at the Half Note Lounge in the George Washington Hotel, 103 E. Piccadilly St. This free event is open to everyone. A cash bar and appetizers at $20/plate will be available.
Next Wednesday, February 26, the City invites you to the Rouss City Hall Reveal from 4-6 PM to celebrate the recent renovation as well as Charles Broadway Rouss Day. There will be guided tours of the historic building, slideshows of the transformation playing on every level, Q&A with the architects Reader & Swartz, and refreshments. February 11 was Charley Rouss's birthday. All are invited! Learn more about the event here.
If you missed the President's Day Muster on Monday, we have you covered! Larry Webb provided photographic coverage of the muster and march. The images are available in PHW's Flickr account at the top of the photostream or in the album.