The Bough and Dough Shop opens November 22. Several of our artists were able to set up early this year, and we are pleased to offer you a sneak peek at some of the wares that will soon be for sale!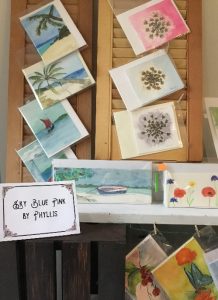 Sky Blue Pink by Phyllis is one of our new artists this year. She creates original watercolor cards on high quality paper stock. Each piece is one of a kind. They can be used as a greeting card and are then suitable for framing by the recipient. Look for flowers, butterflies, trees, and winter scenery among her offerings.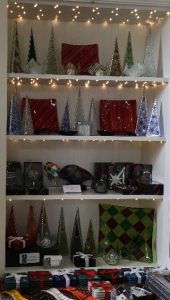 Best in Glass returns this year with an expanded collection of stained and fused glass items. Coasters plates, and ornaments return along with bottle stoppers, votives, spoon rests and decorative trees. There is even one small decorative vase and some mousepads and notebooks in the mix. Each piece of glass is one of a kind and truly stunning!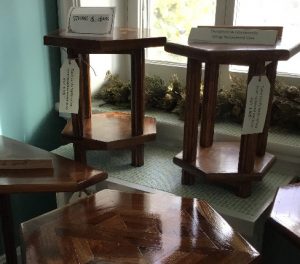 George S. Davis is another of our new artisans for 2019. He crafts unique tables from reclaimed wood. His offerings this year are primarily walnut side tables. The smaller tables will be on display in the foyer, and a larger walnut table suitable for a dining room will be on hand as well.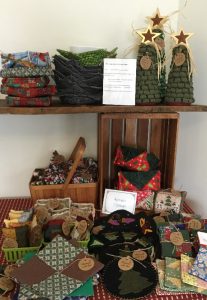 Rosemary Tarrant is back with her popular quilted microwave bowls, coasters, trees, and ornaments. She has added small fabric baskets, dishcloths, and tissue holders to the mix this year. Rosemary will not be able to replenish her stock in 2019, so if you see something you want, be here early to claim your goodies!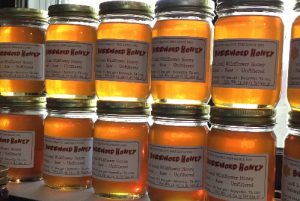 New in our food selection this year is locally produced wildflower honey from Buzzword Honey in Berryville. Look for the jars immediately to your right as you enter the back door of the Hexagon House.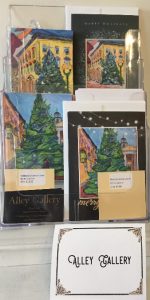 David Sipp of the Alley Gallery in downtown Winchester is back this year with art card prints featuring Christmas scenes as well as Winchester images. Cards are priced individually or in sets of four. David will also have work available in Deck the Walls upstairs if you don't see anything you fancy at the Bough and Dough Shop.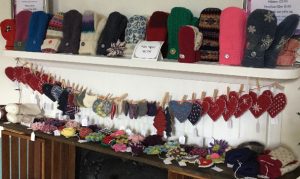 Very Merry Mittens joins us as a new fiber artist in 2019. Her work takes unwanted sweaters and recycles them into stylish mittens, brooches, ornaments, and pillows. Her pieces are always unique due to the nature of her materials.
Thank you to our artists, and thank you as well to our major sponsor in 2019 the Shenandoah Group of Wells Fargo Advisors. Look for their ad in the Holiday House Tour booklets and be sure to check our their services!