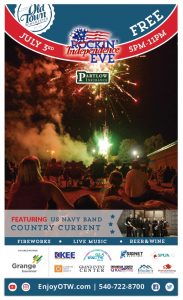 PHW will be at the July 3 Rockin' Independence Eve again this year. Our table will be in the same spot in front of the Godfrey Miller House at 28 South Loudoun St. as last year. Be sure to stop by, say hi, and see what fun activities we may have going on!
The PHW office will be closed for the first week of July (July 1-5). We will be back to normal on the week of July 8. Catch up with the PHW reps at Rocking Independence Eve, or leave a message for us and we will get back to you then.
Although it is said every year, it is worth repeating to be careful while enjoying the summer holidays, particularly grilling and fireworks. While both activities are a staple of summer celebrations, they can be hazardous to both people and buildings. If you need a refresher, you can find safety tips at FEMA and NFPA for these and other summer safety issues like pools, campfires, and storms. Have a safe and happy Fourth of July celebration!