PHW will be starting our 55th year in June. Thank you to all who have supported us. Your membership, interest, and engagement in our local community is a huge part of why Winchester has a thriving and active historic downtown. While it is well worth congratulating ourselves on the success we have had in the historic district protecting and valuing our local buildings, we always need to be aware and engaged in activities that will shape the development of our downtown in the future for the next fifty years. We look forward to supporting preservation and adaptive reuse projects, and we are always available to anyone who is looking for resources on collaborative and innovative solutions to development and design issues.
Today may be the last day of Preservation Month, but that doesn't mean you have to stop celebrating our local history and architecture. The annual Clowser Memorial Service is this Saturday, June 1 at 10 AM. Come out to the Clowser House at 152 Tomahawk Trail in Shawneeland for a service open to all individuals who support the preservation of the historic Clowser House. The event will be held rain or shine. Learn more on their Facebook page!
While the school year is coming to an end for most students, you may want to peer back in time to see the growth and value of public education in Winchester and Frederick County. The article What Winchester Is Doing for Its Public Schools ran in the Richmond Times Dispatch on December 3, 1911. It is a copiously illustrated article, so be sure to check out the images of some of the old county schoolhouses!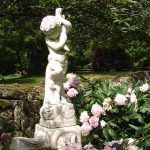 PHW is also pleased to announce the details of our 55th Annual Meeting. We will be convening at Carter Hill Manor, the home of Linda Ross Gibbs and Tommy Gibbs, 529 Jefferson Street on June 23, beginning at 3 PM. Carter Hill Manor, a Georgian Revival style home of rose brick, is situated on one of Winchester's highest points. The Jefferson Street address is actually the rear of the home; the front was built to face "The Old Lane," with a view of the three acres of gardens. We plan to meet outside and enjoy the tranquil setting. In addition to the annual business portion and election of officers, we will also recognize the PHW preservation award winners for 2019. This is a great chance to celebrate local preservation projects and to meet our incoming PHW board members.
Last, mark your calendars for the Godfrey Miller Lecture Series of 2019! All lectures will be held at 7 PM in the Woltz Pavilion, 28 S. Loudoun St., Winchester. Cost is $10 (cash or check) for each evening, collected at the door. Proceeds benefit programs at the Godfrey Miller Historic Home and Fellowship Center. Door prizes will be given away each evening. For more information, visit https://www.winchesterva.gov/275th-anniversary
July 16 — 1700s in Winchester – Tom Maccubbin on early business life in Winchester through ledgers; Gene Fisher on history of the Godfrey Miller Home
July 18 — 1800s in Winchester – Rebecca Ebert on life before the War Between the States; Keven Walker on life during and after the war
July 23 — 1900s in Winchester – Trish Ridgeway on benefactors to the area; Judy Humbert on integration in the second half of the century
July 25 — 2000s in Winchester – Kris Tierney, Frederick County administrator, and Eden Freeman, Winchester city manager, on the present state of the area and future goals